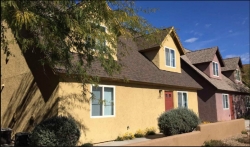 Tucson, AZ, January 22, 2018 --(
PR.com
)-- Originally listed at $3,650,000, the 20-unit, 100 bed property, located at 2326-2366 N. 6th Ave in Tucson, is unique in that each of the units are designed as individual townhouse style "cottages," allowing the students to experience college life as if they were living in a single-family home with their friends.
"Sahuaro Point Villas represents a well maintained and extremely well positioned student housing acquisition in a large school market," says Mark A. Rios, Asset Manager and Capital Markets of Synergetic Investment Group. "Purchasing this property below market value allows us to upgrade the interiors, improve the amenities and reposition the branding to attract those U of A students who would like a unique luxury student life, without paying for the high prices of Class-A product right next to campus."
SIG has engaged University Partners as 3rd-party property management, whose Dallas based principals sold their 22-property, 12,948-bed portfolio (as University Housing Communities) to SCION in 2016 for over $1.4B, making it the largest portfolio sale in the student housing space at the time. University Partners and SIG will also be using Serendipit Marketing to rebrand the property's online and social media presence.
Jeff Greenberg, CEO of Synergetic Investment Group says, "Having institutional quality management and marketing such as University Partners and Serendipit positions SIG for quick growth in 2018 as players in the student housing arena."
Trisource Capital, LLC arranged for senior bridge financing through A10 Capital which closed Dec 22nd, 2017. The selling broker for the transaction was Art and Clint Wadlund of Berkadia Tucson, with Erin Szajna and Anthony Graffiti of Graffiti, Rosensteel and Hall of Scottsdale, AZ as buyer's side transaction attorneys. Final purchase price not disclosed.
Synergetic Investment Group (SIG) acts as operators, asset managers and equity syndicators for market rate multifamily and student housing properties throughout the US. They currently hold 317 beds of student housing properties and its principals have actively owned, managed and/or had ownership interests in over 800 units throughout the US, but mostly in the Southeast, Texas, Arizona, and Ohio.
Additionally, SIG recently finished the investment cycles on two multifamily properties in Texas, which were sold in January for an above anticipated profit.
More information can be found at
http://synergeticinvestmentgroup.com
.