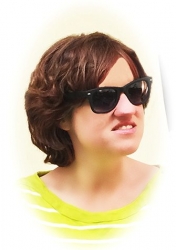 Riverdale, NJ, February 07, 2018 --(
PR.com
)-- Jessica Sisco of Riverdale, New Jersey has been recognized as a Women of Excellence, a Professional of the Year for 2017 and one of the Top 10 Women for 2018 by Strathmore's Who's Who Worldwide for her outstanding contributions and achievements in the field of alternative healing.
About Jessica Sisco
Jessica Sisco has 3 years experience as a psychic medium. She is the Founder of Spiritual Readings NJ, which provides psychic and mediumship services nationally. She is a Psychic Medium who specializes in psychic guidance and evidential mediumship for the purpose of empowering and uplifting clients. Her readings provide connection, clarity and direction through mediumship and intuitive guidance. Ms. Sisco provides recordings of readings for clients as needed.
Jessica is passionate about facilitating the connection between clients and their deceased loved ones. She is also passionate about helping people to navigate life's obstacles while gaining clarity, which she does through intuitive guidance. As a young child she was aware of the presence of spirits. While reluctant to explore and develop these abilities, she finally took the plunge and never looked back.
Ms. Sisco received training in evidential mediumship from MontClair Metaphysical and Healing Center, where she continues her development. In her spare time she enjoys being in the outdoors.
Jessica states, "Although I was born blind, I do not allow that to stop me from living my life. I believe that many of our so-called limitations are products of our minds, and I try to bring that across in my readings and in my life."
For further information, contact www.spiritualreadingsnj.com.
About Strathmore's Who's Who Worldwide
Strathmore's Who's Who Worldwide highlights the professional lives of individuals from every significant field or industry including business, medicine, law, education, art, government and entertainment. Strathmore's Who's Who Worldwide is both an online and hard cover publication where we provide our members' current and pertinent business information. It is also a biographical information source for thousands of researchers, journalists, librarians and executive search firms throughout the world. Our goal is to ensure that our members receive all of the networking, exposure and recognition capabilities to potentially increase their business.