Entrepreneur Ron Zemp & Jennifer Zemp Announce New Block Heels Line, Sassy Girl
Jennifer Zemp achieved success with the help of her husband Ron Zemp's marketing and financial support for the Kasey-Z shoe brand. Kasey-Z shoe is a luxury line of heels that will now offer more comfortable options.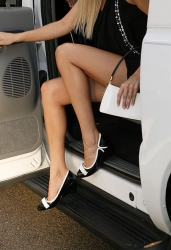 Bend, OR, February 01, 2018 --(
PR.com
)-- With sales of heels plummeting, it seems like sneakers, flats, and block heels are here to stay. With a growing market of athleisure wear and accessories, Kasey-Z shoes had to adjust to what women want. The exclusive launching of the Sassy Girl Collection will be in Laguna Hills, California.
Even though only around 30 percent of women still wear heels to work, according to data Crum cites, there's still a dominant notion that powerful women wear power heels.
Look at Sheryl Sandberg, Facebook's chief operating officer and author of Lean In, the ultimate playbook for the professional woman looking to climb the ladder. In her 2010 TED talk, Sandberg is tottering around on what look to be at least 3-inch spikes.
Things are changing, women want to be comfortable and be able to move without being in pain.
Jennifer Zemp says, "The Sassy Girl line is made for the working women who is on her feet all day."
It seems as though the verdict is in: Block heels are becoming a classic. Both practical and stylish, these shoes are without a doubt made for walking, dancing, and whatever activity you might find yourself in.
Block Heels are the perfect way to stay trendy while still being comfortable. We all love a good stiletto heel, but a chunky block sandal, pump or boot can still deliver a bold fashion forward statement. The heel of a shoe can change the entire look, from easy going chunky sandals to edgy rock and roll booties.
Kasey-Z Sassy Girl block heels are support with several memory foam layers including materials that are typically found in athletic footwear, yet still look like heels. Kasey-Z outsoles claim to offer amazing bounce and comfort.
Sassy Girl website will launch in early February 2018. The Sassy Girl collection will be available for purchase online at www.ronjenniferzemp.com in October and will retail at $300.00-$500.00 dollars. For more information on Sassy Girl, please visit the website at www.ronjenniferzemp.com.
About Sassy Girl by Kasey-Z shoes:
The footwear is designed for people who care about comfort, giving wearers increased support in the heel and ball of the foot. The principles of Sassy Girl have been embedded into a comfortahble block heel, beautiful shoe. Going beyond comfort; small innovations and adjustments have been incorporated to create a shoe you'll never want to take off, one that's light, flexible and still is a heel.
Contact
Jennifer Zemp's Kasey-Z shoes
Jennifer Zemp
310-525-9943
www.jenniferzemp.com

Contact