Mrs. Canada Globe Announce New Format to Pageant. Blind Judge to Join Judging Panel for 2018.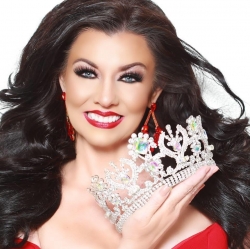 Regina, Canada, February 05, 2018 --(
PR.com
)-- The Executive Planning team of Mrs. Canada Globe (
www.mrscanadaglobe.com
) has turned up the competition for 2018. In the past few years Canada has placed in the top 10 at the Mrs. Globe competition in China, and they want to move up the ranks.
"This year is going to be exciting competition. We began a new partnership with the Your Time Women's Empowerment Foundation who suggested we add a series of questions in the preliminaries for the candidates," says Kimberly Castle, National Director of Mrs. Canada Globe. "Our judging panel needs to get to know our candidates earlier in the competition and be confident that they can represent Canada on the international stage."
Working alongside Kimberly is Lisa Peters as Executive Producer of Mrs. Canada Globe 2018 and together they have decided that their viewers need to understand this pageant is more than a beauty contest. Mrs. Globe winners are well educated with strong communication skills and incredible leadership qualities. Overall first impressions are important, and the ability to answer questions and engage the audience weighs heavily.
Self-confidence comes out in on-stage presence, and more importantly it comes out in voices. In the preliminary competition, the ladies are judged 40% their Personality Profile, along with Evening wear at 30% and Swimsuit at 30%. But for the Finals, all previous scores are discarded, and the judges are scoring 50% on overall impression and 50% on the On-Stage Question. So, to ensure a strong winner, Castle & Peters decided to bring in a judge that cannot see them, but only hear them. Ashley Nemeth is legally Blind.
Ashley Nemeth is recognized as a vocal advocate who breaks down barriers for the blind and partially sighted community. Ashley's vision problems began early in childhood. A genetic disease called ocular albinism, which results in a lack of pigmentation in the iris and retina needed for normal vision, and other eye issues meant what little sight she had slowly diminished. She got her first pair of glasses at age three. By the time she was a teen, she'd lost most of her vision. Today at 31, Nemeth can only perceive light.
As a role model she is breaking down barriers and stigmas and misconceptions and addressing issues that her community faces by speaking publicly to the media, as a motivational speaker, a CNIB spokesperson and staff member, on her blog (blindmovingon.com), Facebook page, Twitter page, and YouTube channel. She is also a leader by example and represents the 'possibilities' for people with sight issues by achieving a high level of independence and mastering living life to its fullest, not letting disability determine what she can and can't do.
"We are very excited to have Ashley join our panel of judges, she brings a guarantee against unintentional bias," says Peters.
Preliminaries will be held on Friday, February 9 at the What Women Want event at the new International Trade Centre, Evraz Place, the finals will be held on Sunday, February 11 from 12 noon to 2pm, same location. Admission is free with your entry to the What Women Want event (www.whatwomenwantevent.com).
Since 1996 the Mrs. Globe (www.mrsglobe.com) pageant has been producing one of the most recognized and celebrated international pageants for Mrs' in the world. Our mission is to create a once in a lifetime experience for Canadian women ages 22+ to achieve their dreams and goals through philanthropy and pageantry. Mrs. Canada Globe encourages and supports their delegates and women in our communities to achieve their goals and dreams, in addition to, giving back to organizations and causes that contribute to the empowerment of fellow women locally, nationally and across the globe.
This year Mrs. Canada Globe will be raising funds for Your Time. Women's Empowerment Foundation.
www.YourTimeFoundation.com
.
Contact
Mrs Canada Globe
Kimberly Castle
972-834-3733
www.mrscanadaglobe.com

Contact