PSP Homecare (PSCR) is Working on Updates to Become Fully Current in Its SEC Filings
Plan is for Company to File All Outstanding Filings as They Are Completed. Proto Script Pharmaceutical Corp. dba PSP Homecare ("PSP" or the "Company") (OTC PINK: PSCR), a durable medical equipment provider, announced today that the Company is in process of updating its fillings with SEC.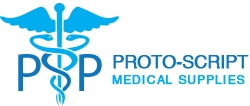 Rancho Cucamonga, CA, February 05, 2018 --(
PR.com
)-- Michelle Rico, CEO of Proto Script Pharmaceutical Corp. stated: "We have been diligently working with our SEC attorneys and auditors to bring the Company fully current in its filings and are pleased that we are close to completing this project. We intend to file all outstanding documents as soon as they are completed. We believe this should give the markets more confidence in the Company and its officers."
She continued: "Once we have achieved this first goal to be fully current and have that behind us, we can change our focus on increasing the Company's footprint in the medical equipment marketplace. As the market sector continues its rapid growth, we will be in the process of building valuable new relationships to increase inroads to new projects in new territories; while at the same time our team will be also exploring other sectors to complement our current company growth strategies, assets, adding more in-house talent and products to service our business as we grow."
She continued: "We will continue to keep our shareholders updated as we enter 2018 and will be timely releasing a continuing amount of information with the goal of being fully transparent."
PSP Homecare currently operates power wheelchair and mobility scooter sale/repair facilities in Las Vegas, Nevada, and Rancho-Cucamonga.
About Proto Script Pharmaceutical Corp.
Proto Script Pharmaceutical Corp. dba PSP Homecare provides a comprehensive collection of durable medical equipment (DME) like canes, crutches, walkers, commodes, patient lifts, hospital beds, orthotics (braces), wheelchairs, scooters, power wheelchairs, rehabilitation equipment, and accessories. Currently serving California and Nevada, PSP Homecare has specialized in the repair of power wheelchairs and the sale of orthotics since 2011. The Company deals with a growing list of federal, state and private insurance providers such as Medicare, Medi-Cal, Nevada Care, National Humana, Blue Cross among growing list of HMO's.
Additional information regarding PSP Homecare can be found at www.psphomecare.com
Proto Script Pharmaceutical Corp. files reports with the Securities & Exchange Commission at www.sec.gov.
This press release was written by PubCoPR.com – For more information: info@PubCoPR.com
Cautionary Language Concerning Forward-Looking Statements:
This press release contains "forward-looking statements" within the meaning of the safe harbor provisions of the U.S. Private Securities Litigation Reform Act of 1995. All statements, other than statements of historical fact, including those with respect to the Company's mission statement and growth strategy, are "forward-looking statements." Although management believes that such forward-looking statements are reasonable, it cannot guarantee that such expectations are, or will be, correct. These forward-looking statements involve a number of risks and uncertainties, which could cause the Company's future results to differ materially from those anticipated. Potential risks and uncertainties include, among others, general economic conditions and conditions affecting the industries in which the Company operates; the uncertainty of regulatory requirements and approvals; and the ability to obtain necessary financing on acceptable terms or at all. Additional information regarding the factors that may cause actual results to differ materially from these forward-looking statements is available in the Company's filings with the SEC. The Company assumes no obligation to update any of the information contained or referenced in this press release.
Contact:
Michelle Rico, CEO
855-476-7679
Contact
Proto-Script Phamaceutical Corp.
Michelle Rico
855-476-7679
PspHomecare.com

Contact