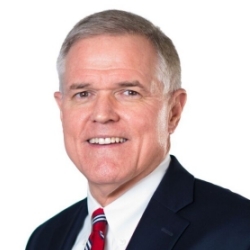 Tempe, AZ, March 01, 2018 --(
PR.com
)-- Menlo Group Commercial Real Estate (menlocre.com) announces that Geoffrey M. Waldrom has joined its team of experienced real estate professionals.
Mr. Waldrom brings 31 years of commercial real estate experience to his new position. He was most recently a managing director in Newmark Knight Frank's office group in Phoenix. This industry veteran founded Strategic Commercial Realty in 1994, serving as president from 1994 to 1999 and as principal from 2004 to 2011. He was also principal at CRESA from 1999 to 2004.
During his career, Mr. Waldrom has negotiated lease and sale transactions worth more than $1 billion. He represented many high-profile clients, including CenturyLink, Microchip Technologies, National City Mortgage and Universal Technical Institute.
Tanner Milne, Menlo Group's President, speaks highly of Mr. Waldrom, "I'm thrilled to welcome Geoffrey to our team. I have known him since I got into the industry and there is a lot of mutual respect. I'm very excited to see what he will be able to accomplish utilizing our tools and systems. As our industry consolidates, we continue to innovate our platform and look for professionals who want to perform at the top of their game."
Geoffrey's success is due in part to his passion for assisting local companies as they cope with the complexities inherent in commercial real estate deals. His results-driven strategy helps stakeholders efficiently reach mutually advantageous agreements. When he represents owners, Geoffrey's keen eye allows him to position properties to maximize their appeal to all interested parties.
Mr. Waldrom's professional achievements are many. In 2013, he was named Top Producer at Newmark Knight Frank, Phoenix. He is a board member of Business Advisory Services and is the former president of the office group of the Arizona Commercial Brokers Association (ACBA).
Mr. Waldrom cites the advantages of joining the Menlo Group team, "What first caught my intrigue about Menlo Group was that the company provides each advisor with a Transaction Manager in an effort to maximize the advisor's time enabling them to do more deals. Now that I am working at Menlo Group, I am even more impressed with the numerous tools provided to each advisor. The culture of success fostered here by providing best-in-class services for clients and helping the individual advisor to reach his or her full potential is second to none."
About Menlo Group
Menlo Group Commercial Real Estate is a full-service commercial real estate brokerage servicing important markets in Metropolitan Phoenix, including the industrial, retail, child care, as well as general, medical and dental office markets.
At Menlo Group, we seek to illuminate our clients' path to success. It is both exciting and fulfilling to find the perfect outcome and to structure the right deal for each and every client we serve.