For the First Time in Saudi Arabia: Wendy Musical Play Performs Live in Riyadh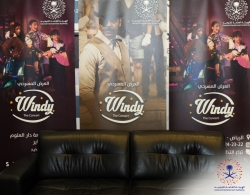 Riyadh, Saudi Arabia, February 23, 2018 --(
PR.com
)-- The General Entertainment Authority brought the Wendy Musical Play, which will be held for the first time in the Kingdom of Saudi Arabia and organized by LuxuryKSA.
The Kuwaiti Wendy Band will perform a musical from 22nd till 24th of February in Riyadh, Dar Al Uloom, following their performance in Al Khobar last week.
The musical offers a public-spirited message that expresses the urgent need for human coexistence and respect for diversity embodied in all kinds of knowledge, science, creative arts and education. Where the drama revolves around the difficulty of integrating personalities from different groups in accepting each other.
Mr. Fawaz Al Enezi, Event Manager, LuxuryKSA, said: "The company is working towards attracting the most important international offers and teams that are reviving their shows in Saudi Arabia for the first time."
On the side-lines of the conference, Wendy Group expressed its pleasure to visit the Kingdom and the importance of this invitation to establish such plays in Saudi Arabia, in light of the boom in the entertainment sector targeting a variety of age groups.
The band added: "The work is a musical play composed of legends and realistic stories, presented in the style of narrative theater which uses the style of paintings, dances and songs in a creative representation, performed by a large group of actors (boys and girls) effectively and charmingly with high artistic skills."
Contact
Luxury KSA
Dania Koujan
+966544180133
www.hewargroup.com

Contact