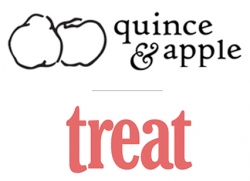 Madison, WI, February 27, 2018 --(
PR.com
)-- Treat Bake Shop Founder Sarah Marx Feldner and Quince and Apple Co-Founders and Owners Matt and Clare Stoner Fehsenfeld announced today that their businesses are joining forces. Quince and Apple has purchased Treat Bake Shop and production of Treat's spiced and candied nuts will move to Quince and Apple's Madison kitchen in mid-March.
"We have long admired the company and brand that Sarah has built," said co-founder Matt Stoner Fehsenfeld. "We've had the pleasure of working together many times and are very excited to be bringing the Treat Bake Shop brand and products into the Quince and Apple family."
"Treat and Quince and Apple are really a perfect fit," said co-founder Clare Stoner Fehsenfeld. "There are just so many similarities in the way we manage our brands, the care we show our customers and, most importantly, the fact that we've both stayed true to small-batch artisan production methods as we've grown."
"I am incredibly proud of the Treat brand I have built and very excited for Quince and Apple's ability to extend its reach even further," said founder Sarah Marx Feldner. "I have a ton of respect for Matt and Clare and I couldn't think of a better place for Treat to flourish."
Quince and Apple, which was founded by Matt and Clare in 2009, has expanded beyond its Midwest base to grow its national profile and sales over the past several years by patiently building a trusted network of distributors, brokers and accounts that value high-end, artisan products.
"We are excited to be able to use the resources we've built to introduce Treat Bake Shop's spiced and candied nuts to a wider national audience," said Matt Stoner Fehsenfeld.
This represents the first acquisition by Quince and Apple in their nine-year history, but Clare Stoner Fehsenfeld says she hopes it's just the first of many.
"There are so few options for owners of small, artisan food businesses if they want to sell," said Clare Stoner Fehsenfeld. "They make great products and build great brands that have tremendous value, but their companies are often too small to attract the interest of larger, conventional food companies or investors. By bringing Treat into the business we've already built, it will give both brands some of the advantages of being a part of a larger company, while being able to retain that true artisan touch."
"We've lived what it's like to build an artisan food company from the ground up for nine years, so we understand that founders don't want to sell to just anyone," added Matt Stoner Fehsenfeld. "You want to make sure your buyer truly understands what you've built and how much of your heart is in it. You need to feel sure that they will care for it as it grows in a way that you feel good about. That's what we're going to doing with Treat Bake Shop and, hopefully, we'll have the chance to do the same with other brands in the future."
Quince and Apple is a Madison, WI based artisan food producer that makes award-winning preserves and drink syrups. Founded in 2009 by husband and wife Matt and Clare Stoner Fehsenfeld, the company makes all of its products by hand in small batches. They maintain their own production kitchen in downtown Madison and ship products directly from the facility to stores and distributors nationwide.
Treat Bake Shop is an artisan producer of spiced and candied nuts, including pecans, almonds and walnuts. Founded in Milwaukee, WI in 2011 by Sarah Marx Feldner, the company focuses on sourcing the highest-quality ingredients to produce unforgettable products with exceptional customer service. Their products are sold in specialty and high-end cheese stores across the country.
If you would like more information about this topic, please contact Matt Stoner Fehsenfeld at matt@quinceandapple.com