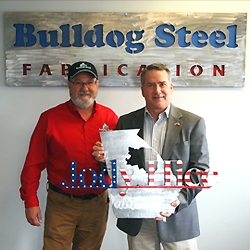 Madison, GA, February 28, 2018 --(
PR.com
)-- It's not a call that Carlin Thomas, President and General Manager of Bulldog Steel Fabrication, was expecting.
"We received a call from our Chamber of Commerce President Bob Hughes, asking if we'd like to host U.S. Congressman Jody Hice, and tour him around our facility," said Operations Manager Loni Johnson.
Congressman Hice planned to visit Bulldog Steel to recognize their success, and thank them for their high level of support in the community. Bulldog Steel was chosen for a Congressional visit based on their contributions and continual engagement in numerous volunteer opportunities around their local area.
"We're fortunate to have a thriving business and staff that's committed to caring about what happens outside of the workplace. We contribute regularly to causes involving schools, youth sports, veterans, and our local Chamber of Commerce. As a company we always try to give back to the community that helped us on our path to success," stated Thomas.
Since the company first learned last Thursday that the Congressman would be visiting them, no surprise, Congressional staff and security detail have been all over the place.
But the fact that the Congressman of the the 10th District of Georgia visited this past Friday is what really thrills the company, especially since they believe that their economic success is partially tied to his efforts of cutting burdensome regulations.
"We feel he's great for the economy, and great for a company like us," added Johnson.
Last year, 2017, was Bulldog Steel Fabrications best year ever, and with the new tax law they expect 2018 to be even better.
"We have gone from 12 employees when we started in 2011 to more than 60, and our revenues continue to grow," commented Johnson. "So hosting our Congressman was not only an honor, but a testament to what we've been able to achieve."
"Congressman Hice toured our plant and spoke with many of us here to learn about what we do and the products we provide. It was a pleasure to speak directly to him about our processes and goals. The Congressman was focused and seemed very interested and enthusiastic to learn about our company," said Safety Manager Lorenze Tremonti.
"To thank the Congressman for his visit and interest to learn about what we do, our team crafted a pretty unique gift," concluded Thomas.
That gift was a solid steel sign showing a representation of the Congressman's logo. It displayed his name, painted in America's colors, elevated over the state of Georgia with the 10th district proudly displayed.
Bulldog Steel Fabrication is an industry leader in the South East for processing structural, flat rolled and coiled steel into customer specific component parts.
The company's website bsfga.net provides more information.