Right Recovery Opens Innovative Online Substance Abuse Treatment Program
Right Recovery opens a new online substance abuse outpatient program serving California and countries outside of the United States. The innovative and evidence-based treatment program is a much-needed addition to the current addiction treatment matrix, struggling to cope with the opioid epidemic.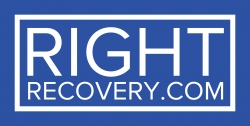 Laguna Beach, CA, February 28, 2018 --(
PR.com
)-- Right Recovery, Inc., an innovative provider of online/internet-based outpatient alcohol and drug treatment services in California, has launched its outpatient and intensive outpatient (IOP) addiction treatment program for adults age 18 and over. Right Recovery's evidence-based addiction program allows clients to continue to work or attend school while addressing substance abuse issues and includes intensive family and spousal support. Right Recovery offers a unique monthly pricing option that makes treatment affordable for almost anyone.
In addition to the affordability of the program, Right Recovery has removed many of the roadblocks that exist for individuals who are currently seeking treatment but can't leave their job or school or don't have access to treatment in their local community. Many rural areas have been impacted by the current opioid epidemic but have very few resources for those seeking a program. Densely populated urban areas often have a surplus of treatment providers, but California's increasing treatment costs and traffic problems make it difficult for many to utilize the services. Right Recovery can virtually guarantee confidentiality and offers 24/7 schedule for services, 365 days a year. Anyone with a tablet, computer, or mobile phone with a video camera and access to the broadband internet or mobile service can participate in treatment with ease.
While there continues to be some bias amongst clinicians in the addiction treatment community that treatment services provided online may not be as effective, a growing body of evidence suggests online substance abuse services may be more effective than traditional brick and mortar programs. Numerous government and university research studies have confirmed that substance abuse treatment can be delivered effectively online and even found success in treating mental health and medical issues. Younger generations who are accustomed to accessing most services online are actively embracing the convenience and affordability of online treatment. Participants are utilizing saliva-based home drug tests that eliminate the need to visit a lab.
Right Recovery helps clients to get to the cause of what is driving their substance abuse and overcome it. Clients develop strong therapeutic relationships grounded in truth, respect, balance, and acceptance and are provided with a safe space to work through their difficulties and discover their strengths and potential. Clients participate in online treatment through the use of encrypted video conferencing software that works on almost any internet connected device. Clients meet face-to-face using the technology with their primary counselor, in groups and can even interactively participate in educational courses. Treatment at Right Recovery doesn't just stop with the client; it offers the most comprehensive program available for family members and spouses, family counseling right from the convenience of your living room.
Currently, Right Recovery offers its services in California and all countries outside of the United States. As the laws and regulations differ from State to State, Right Recovery is currently working through regulatory requirements to make its services available in many more over the coming months.
About Right Recovery
Right Recovery delivers world-wide, world-class, online outpatient addiction treatment. Right Recovery specializes in the treatment of substance use and addictive behaviors for individuals and families. We use state-of-the-art technology to ensure complete confidentiality and provide respectful, affordable, customized, evidence-based approaches to make treatment available to almost anyone. Let us help you or a loved one create a path forward you can truly embrace. For more information about our services, visit our website at
https://www.RightRecovery.com
or call us at 888-589-4407 in the United States or +1-949-441-2525 for international callers.
Contact
Right Recovery, Inc.
David Smith
(888) 589-4407
https://www.rightrecovery.com

Contact