The 4th Annual Greater Home and Remodeling Show Delivers New Products, Design Trends & Inspiration
Comprehensive Shopping Experience Puts Attendees Face-to-Face with Local and Regional Home Improvement & Remodeling Experts, March 3-4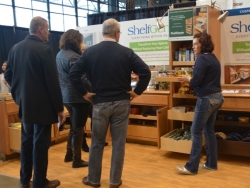 Schaumburg, IL, March 02, 2018 --(
PR.com
)-- The Greater Home and Remodeling Show (GCHOMESHOW), presented by Life Storage, located at Schaumburg Convention Center (1551 Thoreau Drive N.) for its fourth installment, from March 3-4,2018. The experiential marketplace – the only home show in the city of Schaumburg – is perfect for new and existing homeowners looking to upgrade, remodel or renovate their homes.
The two-day showcase will feature vendors from Chicagoland and beyond eager to demonstrate their new products, and to offer advice, insight and inspiration on remodeling, design, home improvement and spring outdoor projects. Guests will meet local and regional experts offering innovative products, inspiring ideas, helpful tips and exclusive deals.
In 2016, homeowners who completed home remodeling projects rose 12% from the previous year, driven primarily by new owners looking to upgrade and customize their homes, and people preparing to put their homes on the market.
"Winter is the perfect time of year for existing and future home owners to start thinking ahead to their spring and summer renewal projects," said Jennifer Ibe, the GC Home show manager. "We're excited to welcome more than 40 new home experts to the third annual GC Home and Remodeling Show at Schaumburg Convention Center. Attendees will get to shop, compare and save, as well as take advantage of seminars and specials they won't find anywhere else."
2018's Greater Home and Remodeling Show will feature vendors specializing in bedroom, office, outdoor, energy efficiency and more. Since kitchen and bathroom remodeling remain the top trends for people upgrading their homes, attendees will find experts in cabinetry, appliances, windows and flooring, including Dovetail Kitchens, offering custom solutions in kitchen and bath remodeling, Renewal by Andersen, Champion Windows replacement windows and doors, Woodridge Deck and Gazebo outdoor decking and gazebos, Revive Bath, Just Right Blinds and Shutters and Power Home Remodeling, specializing in energy-efficient home remodeling.
Highlights include:
· WCGO's Radio Mighty house Home Improvement Radio Show, offers a complete DIY Show, will broadcast live from Schaumburg Convention Center Saturday, March 3 from 7-10 a.m.
· WCGO's Radio Mike Novak Show with Peggy Malecki, all about growing things greening the world," will broadcast live from Schaumburg Convention Center Sunday, March 4 from 9-11 a.m.
· Ethan Allen, the leader in furniture and home accessories, will create interactive office, bedroom and dining displays, and offer free design assistance through its "Ask a Designer" program and will present each day on the stage.
· Mission 2 Organize, Chicago's urban organizing and concierge business, will present unique solutions to help attendees get organized Saturday at 1 pm
· Sherwin William Paint will be offering DIY Paint tips and learn the history of color will present daily on the stage.
· Former Chicago Blackhawk Bobby Hull who is considered one of hockey's greatest players. Bobby Hull will sign autographs Saturday, March 3 from 12-2 pm
· Local musician Laura Joy will perform Saturday, March 3 from 11am-3 pm
· Chicago's Indige Face will be at the show each day offering complimentary face painting and creating memorable keepsakes for children
· Tickets are $7 at the door, $4 online, $2 for Seniors 65+ with a valid ID at the show box office. Children 12 and under are free with an adult.
The hours for the GC Home Show are:
· Saturday, March 3 10 a.m. – 5 p.m.
· Sunday, March 4 10 a.m. – 4 p.m.
The Show will take place at the Schaumburg Convention Center, Adventure Hall, with parking conveniently located outside the Convention Center for free.
For more information, including a full stage schedule, visit www.gchomeshow.com. Follow Greater Home and Remodeling Show for show updates and helpful home tips on https://www.facebook.com/gchomeshow/and https://twitter.com/ and engage using hashtag #gchomeshow.
About GC Home Show
Greater Home and Remodeling Show offers consumers a comprehensive, face-to-face shopping opportunity, connecting new and existing home owners with companies offering home improvement, remodeling and décor, and outdoor living products, services and expert advice, to help them create the ideal home and life year- round.
About Schaumburg Convention Center
The Schaumburg, Illinois, Convention Center's meeting space can be creatively configured to accommodate everything from board meetings to large-scale conventions and exquisite banquets – with an ambiance that inspires. Offering 148,624 square feet of flexible event space and ideally located near upscale shopping and dining, each turn unveils a new surprise that enlivens the mood and stirs the creative process. Visit www.schaumburgconventioncenter.
Home Advisor Annual Report, 2016, http://www.homeadvisor.com/cost/report/
Contact
Grayland Productions
Jessica Boweak
773-293-6800
gchomeshow.com
312.560.6195

Contact
Multimedia
Comprehensive Shopping Experience Puts Attendees Face-to-Face with Local and Regional Home Improvement & Remodeling Experts, March 3-4