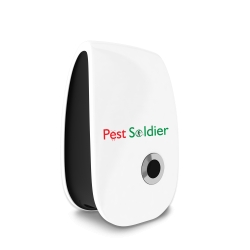 Rosemount, MN, March 04, 2018 --(
PR.com
)-- Pest Soldier's Ultrasonic Pest Controller continues to earn commendations and positive reviews from users, months after its initial release. The company's latest creation is a safe and easy-to-use device that emits ultrasonic frequencies to drive away unwanted insects and rodents. The Pest Soldier Ultrasonic Pest Control is available in the
Pest Soldier
website and
Amazon
.
Pest Soldier's latest innovative pest control solution is a plug-in repellant that protects homes and establishments 24/7. It emits ultrasonic and electromagnetic waves at 20-55kHZ that protects up to 200 m2 radius. The device is the best repellent for unwanted creatures like cockroaches, rodents, flies, ants, mice, fleas and spiders.
The increasing sound and vibration it emits was specifically fine tuned to get the job done without harming humans or pets. It is an eco-friendly and dirt-free solution to pest control that helps make homes and establishments safer and rodent-free.
The device was created with its users' satisfaction in mind. Pest Soldier's Ultrasonic Pest Controller provides discrete protection that only affects insects and rodents. It's a high quality product created for families and businesses.
Extensive research was done during the creation of Pest Soldier's Ultrasonic Pest Controller to ensure its' efficiency and effectiveness. The Pest Soldier company is delighted with the users' positive reception of the product.
"It has only been a few months since we released Ultrasonic Pest Controller but we're happy for the positive feedback it has received so far. We are very very happy that our customers appreciate the product. For us, it means that all our hard work has finally paid off," Pest Soldier's official spokesperson said.
"Our team was very surprised with its popularity. But we're delighted to hear about the positive review. So far, we've successfully sold thousand units, and we're looking forward to releasing more," He added.
Pest Soldier's Ultrasonic Pest Controller guarantees a dirt-free and safe protection and defense for its users. No more annoying sticky tapes, traps, citronella candles, or poisons that doesn't quickly address the problem. The Ultrasonic Pest Controller gets the job done with zero danger and minimum hassle.
It's easy to use and can protect its users all year round. The Ultrasonic Pest Controller is one of Pest Soldier's products that aim to provide and additional layer of protection to its customers from pests. With the recent success received by the Ultrasonic Pest Controller, Pest Soldier promises to make more products to help their customers around the world have safer and cleaner homes.