HashCash Digital Asset HCX is Now Open for Individual Purchase
HCX was earlier open for enterprise purchase only. Global Banks and Currency exchanges use the network for cross border remittances.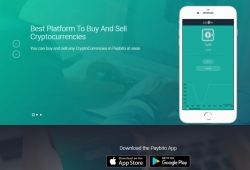 San Francisco, CA, March 08, 2018 --(
PR.com
)-- California based blockchain giant HashCash Consultants has launched its Crypto asset HCX.
HashCash, a blockchain remittance network operator has tied up with the largest banks, currency exchanges and payment networks to facilitate cross border payments on its blockchain network, HC NET.
The network uses the native digital asset HCX to conduct transactions securely. Every operation on the network consumes a small amount of HCX.
HCX was available only for enterprise purchase last year. HashCash said that it extends HCX purchase contracts to enterprises. Enterprises on HC NET can access their HCX accounts through the financial applications they use for cross border payments.
HC Remit, HC Corporate Payments and HC Market Maker appears to be the popular applications that HashCash offers to enterprises on its network.
Individuals can currently purchase HCX through the mobile app Paybito. A HashCash representative said that HCX will be made available through all major crypto exchanges of the world but did not offer a definitive timeline.
Paybito
is a secure multi-signature wallet/exchange that conducts rigorous KYC and AML checks before users are allowed to make any purchase on the app. HCX can be purchased with USD and INR and is made available to Android users of the app at this time. Users will need to have USD or INR bank accounts and have to be residents in the respective countries.
Starting March 10, crypto traders in other countries can send Bitcoins from their wallets to the Paybito app and purchase HCX using Bitcoins after going through KYC/AML checks required by their respective jurisdictions.
The
live network and HCX asset performance
is available in public domain.
The network also publishes a
blockchain explorer
which shows the transactions on the live and test network in real-time.
According to a previous news release, the company is also hosting a blockchain consortium of diamond merchants and a consortium of insurance providers on HC NET.
The Diamond merchants are using the network for tracking the provenance of diamonds though their supply chains and settling payments. The insurance consortium is experimenting with smart contract automation in processing claims and preventing fraud.
A more comprehensive list of financial organizations on HC NET is available on
HashCash partners
page.
This year HashCash and a few of its Banking partners have come out and made joint announcements of their collaborations.
Alfa-Bank
, Russia's largest Commercial Bank, earlier declared that it partnered with HashCash to set up a Domestic Payment Ecosystem on HC NET. German Banks such as
CommerzBank
also joined the network for Blockchain based cross-border payments.
Singapore's UOB
, India's
Yes Bank
and currency exchanges in UAE among others declared collaborating with HashCash.
HashCash MD, Raj Chowdhury last year led the
International Organization for Standardization (ISO) initiative
to create interoperability standards for major blockchain platforms.
"HashCash has steadily evolved as a strong player in Blockchain space through its collaboration with leading banks. We believe it's now an equal opportunity for the individual investor to be a part of the HashCash growth story," said Chowdhury, who earlier pioneered the first interbank blockchain transaction between Emirates NBD in UAE and ICICI Bank in India.
Contact
Bruce Weber
415-800-3465

Contact