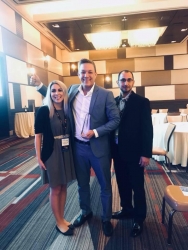 Boston, MA, March 07, 2018 --(
PR.com
)-- Northeast Suites, The Official Corporate Housing of Boston, has once again been named an award-winning Temporary Housing company awarded by the industry's largest trade organization, The Corporate Housing Providers Association (www.chpaonline.org), which represents companies who provide furnished, short-term accommodations, Nationwide.
"Out of over three hundred furnished housing companies, coast-to-coast, it's an honor to accept this award on behalf of my team, recognizing us as a Thought Leader and Innovator in our field."
– Patrick Flynn, Owner and General Manager
To win this award, Northeast Suites pulled off the most profitable campaign in Northeast Suites' history, beginning with a $1500 Ice Cream Truck found on Craigslist, and fixing it up with a rebrand as "Northeast Sweets." The team brought the ice cream truck around to a few industry events, namely the GBTA conference in 2017 at the Westin Hotel in the Seaport District. The guerilla marketing campaign yielded direct revenue of over $100,000 to Northeast, representing an over 2700% ROI.
"Being a relatively small business in a big market like Boston, it's important to be disruptive when it comes to marketing ideas in order to compete. With our latest marketing campaign, we hope we can show any business with some creative thinking, you can achieve big results on a small budget."
Northeast Suites is planning a full upgrade of all of it's over 250 furnished apartments in the Boston area. The new roll-out will also connect local furniture builders, artisans, and craftsmen in a more Social Experience that supports local economies. If you are a local business owner that wants to be a part of our bid process, please reach out to cynthia@northeastsuites.com to be connected with our sourcing development team.
About Northeast Suites: Northeast Suites is a locally-owned furnished housing company that provides luxury furnished housing nationwide with a focus in the Northeast, offering corporate, temporary housing in apartments, condominiums, and houses for clients ranging from Fortune 500 companies to individuals in need of a hotel alternative for their short-term stay. Northeast Suites currently has an occupancy rate of ninety nine percent since its launch in March 2012, and works with hundreds of different properties and national property management companies throughout the country. They have formed strategic alliances with HR professionals at corporations in the biotech and software industries, medical institutions, media conglomerates, professional sports teams and traveling nurse companies. For more information, please visit www.northeastsuites.com.