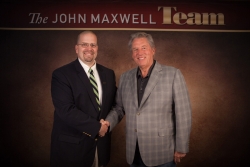 Durham, NC, March 08, 2018 --(
PR.com
)-- John C. Maxwell and his team of certified international coaches, volunteers and leaders, including Walter Finnigan local certified coach and founder of LEAF Advising, are converging on San Jose, Costa Rica at the invitation of President Luis Guillermo Solis.
This special delegation will conduct a national not-for-profit leadership education project known as Transformacion Costa Rica. Over 250 people are converging in San Jose, March 11 through March 15, to deliver the proven "Maxwell Round Table Method" to thousands of participants. The powerful Maxwell Round Table Method begins by equipping individuals in a structured process, then radiates from individual to individual for a massive, intentional, viral leadership development effect. Over the course of five rigorous days, the specially trained delegation will meet with top government, military, education, business, faith and community leaders with one goal in mind: hand over proven tools to the leaders of Costa Rica in a structured process for their further leadership development through the power of the values-based Maxwell Round Table Method.
"This is Operation Leadership off- for Costa Rica," John Maxwell said. "Literally, hundreds of people from all over the word are paying their own way to serve, add value and make a difference in Costa Rica. This is how transformation happens - when one person cares enough to take action - when hundreds care enough to take action. The weight of the vision for Costa Rica weighs heavily on me because I know what's at stake. If the vision does not have weight, it does not carry with it the conviction and the authority it needs the vision must be felt in the heart, not just seen with the eyes. We are fighting for the transformation of the lives for the people of Costa Rica," Maxwell added. Maxwell has been invited to deliver the Maxwell Round Table Method by leaders of 22 nations. He and a special delegation delivered the method in Guatemala and Paraguay and visits to more countries are in the works. The Maxwell Round Table Method is straightforward - using a set of leadership values pre-selected by Costa Ricans, specially trained John Maxwell Team Members will each host a series of values based round table sessions, totaling nearly 4,000 sessions in all, structured around Maxwell's newest thinking on Intentional Living. Each member of the round table reflects on how well they embody a particular value (for instance, listening), share briefly, and then make a positive statement about how they will improve that skill in the coming week. After discussing specific leadership values and how to personally improve upon each, table participants are asked to proactively practice the growth method for one week, then reach out to five members of their community and teach them the same process. Using the Maxwell Round Table Method, it has estimated 300,000 Costa Ricans will be reached. This process is expected to create a cultural paradigm shift from the top down and table to table, participant to participant. Leadership in the country has asked for help in training more leaders with the main goal of more responsibility. By equipping leaders through the Maxwell Round Table Method with values-based content for them to teach others, a revolution of transformational leadership can fast-track a country and help it move forward with confidence.
John C. Maxwell is a #1 New York Times bestselling author, coach, and speaker who has sold more than 26 million books in fifty languages. In 2014 he was identified as the #1 leader in business by American Management Association and the the most influential leadership expert in the world by Business Insider and Inc. magazine. As the founder of The John Maxwell Company, The John Maxwell Team, EQUIP, and The John Maxwell Leadership Foundation, he has trained more than 6 million leaders. In 2015, he reached the milestone of having trained leaders from every country of the world. The recipient of the Mother Teresa Prize for Global Peace and Leadership from the Luminary Leadership Network, Dr. Maxwell speaks each year to Fortune 500 companies, presidents of nations, and many of the worlds top business leaders. He can be found on Facebook and Twitter.