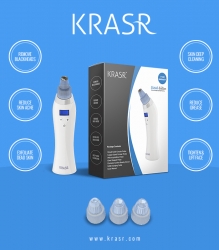 Toronto, Canada, March 09, 2018 --(
PR.com
)-- Krasr's Comedo Suction Microdemabrasion Machine received overwhelming commendations and positive reviews, several months after initial product release. The innovative Krasr creation removes impurities and smooths fine lines by exfoliating the skin through a vacuuming action using natural mineral particles. It is currently available on
Krasr'
s official website and
Amazon
.
The Comedo Suction Microdermabrasion Machine is a flagship product that works by using a suction motion to exfoliate the skin which helps in removing blemishes like blackheads, white heads and pimples. It also stimulates blood circulation that tightens the skin to reduces fine lines.
It comes with four different probes namely, the (1) Microcrystalline skin-smoothing probe, (2) Skin tightening probe, (3) Pore cleansing probe and (4) Fine lines probe. Each probe targets a specific skin issue and can be interchangeably used to get tight, smooth and blemish-free skin.
Since its release, the Krasr website and the Amazon page for Comedo Suction Microdemabrasion Machine have been flooded with positive reviews. Commendations continue to pour from customers who saw significant improvement on their skin since using the machine.
The product also ranked #1 Best Selling Product on Amazon under the category of Microdermabrasion & Exfoliating Devices. After its popularity skyrocketed, hundreds of thousands of units of the product have also been sold worldwide. More units are also expected to be sold in the coming months.
The Krasr team admitted to be still in shock with the Comedo Suction Microdemabrasion Machine's sudden rise to popularity. "We really did not expect that the Microdermabrasion machine will become one of the most popular products to our customers in just a few months. But we're very happy it did," Krasr's spokesperson said in an interview.
"It has always been our goal to make products that work for our customers. And after seeing the positive response that the microdermabrasion machine got, we're even more motivated to continue making products that can help our target market," he added.
Krasr is a popular beauty brand that creates and distributes products that help resolve specific skin problems. They offer a wide variety of products ranging from Facial Hair Epilators, to facial steamers to blackhead charcoal removers.
The Comedo Suction Microdemabrasion Machine is one of the more popular products of Krasr. The company aims to help customers get the skin they've always wanted. With the recent success of the microdermabrasion machine, Krasr is much more motivated to make products that their customers would love.