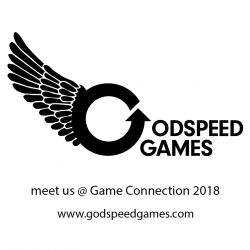 San Francisco, CA, March 12, 2018 --(
PR.com
)-- After a very successful and rewarding 2017, GodSpeed Games is very excited to participate in the 2018 edition of Game Connection event to be held this month at San Francisco. The leading Games and Technology Services company promises to bring up exciting deals and will be sharing insights on why GodSpeed is the right service partner for Game Studios.
Ranbeer Hora – Founder & MD, GodSpeed Games, stated, "We are very excited to participate in these elite events, this year we are exhibiting our services at Game Connection. We had a great experience in last couple of years at these events and are very happy to share about our services and in connecting with Gaming Industry Experts across the world. These events offer unparalleled education, inspiration and networking opportunities for the global gaming community."
He continued, "Our multiplatform expertise helps studios to get their products developed simultaneously across different platforms. We use latest technologies to manage projects effectively. We provide our services to any size Game Studios across the world and help in delivering quality output. No matter how complex, we have the capabilities and expertise needed to meet the deadlines. We are proud to bring the breadth of our experience and industry knowledge to help game studios succeed."
GodSpeed's Development Director, Druhin Mukherjee, added, "We have contributed on more than 300 Games across different genres with one purpose: to deliver excellent quality product for the clients and indeed the players. We inspire clients to make their most challenging business decisions with confidence and help lead the way towards a stronger gaming community."
Game Connection America will take place from 19th to 21st March'18 at AT&T Park, San Francisco. For a quick meeting at Game Connection, please contact us through the GC Meeting App. Drop in at Booth 134, as we would love to connect.
And if you are in and around during GDC from 19th to 23rd March'18 and would like to meet us for a quick chat over Coffee. Then email us at sales@godspeedgames.com or connect with us on Twitter: @GodspeedGame