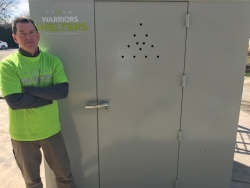 Weatherford, TX, March 14, 2018 --(
PR.com
)-- "With more than 20 years of being in the wrong place at the right time, I wanted to do more than just warn people about a coming tornado. I want people to be safe from every storm®. Sometimes there is not adequate warning and even when there is a warning the only true safe place is a shelter. Not any shelter, but one designed to withstand the most violent weather on earth." - Bill Ford
Keep your family safe from every storm this season with a Storm Warrior shelter in your home. The innovative design provides excellent protection and ease of installation. The team at Storm Warrior Shelters is committed to providing the best way to make the most families safe from every storm®.
According to founder, Bill Ford, it is important to Know Where to Go® when severe weather approaches and these shelters, that fit conveniently into garages, provide that safe place. It was his goal to make the shelters as affordable as they are safe and to provide shelter and protection to families. About 1,000 tornadoes touch down in the United States each year, mostly in the states east of Arizona. Even a weak EF1 tornado can destroy a home, but an EF5 can devastate an entire neighborhood or town. So, it is important to have somewhere to go.
Storm Warrior Shelters are FEMA compliant and are available for immediate delivery and installation anywhere in the continental United States.
www.stormwarriorshelters.com
Media Contact
For additional information, images, and availability, please contact:
Bill Ford | Managing Partner | Texas USA | bill@stormwarriors.tv |817.456.8153