Douglas Vermeeren's Personal Power Mastery Program Rated Among the Top 3 Self Development Programs Worldwide
Douglas Vermeeren conducted research and first hand interviews with more than 400 of the world's top achievers. It looks like all of the hard hard paid off.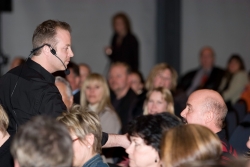 San Diego, CA, March 15, 2018 --(
PR.com
)-- Recently Personal Power Mastery was rated as #3 for top personal development programs worldwide. (as per Succeed Magazine - Article, "Top personal development training today. p, 6) Its no wonder when you understand how unique this program is:
Over the space of a decade Douglas Vermeeren conducted first hand research with more than 400 of the worlds top achievers. His goal was to find out what it took to create success and achievement. Having found the answers he was able to build a system and a program that many are now recognizing as one of the top personal development training programs in the world. (as per Succeed Magazine - Article, "Top personal development training today. p, 6)
"One of the reasons I think we've had so much success is that our tools are actually based on what real top achievers are doing in the world today," Vermeeren stated. "It's not that we are sharing theory or great ideas. I have actually systematized what top achievers really do create the outcomes they have."
Personal Power Mastery is currently being taught on nearly every continent on the globe, either by Vermeeren or one of his certified trainers. The program is being taught in corporate groups over the space of a few hours or in a lengthier multi-day training.
"Even in the shorter programs we are able to achiever so much," Vermeeren explains, "Simply because the ideas and concepts we share in Personal Power Mastery are so different than what people have experienced before."
While the training is recognized for Continuing education or professional development credits in most markets, professionals and the general public are both finding great value in the program.
Currently more than 25,000 people have been through this program since it first launched in 2010.
For more information go to Douglas Vermeeren's official website: www.Douglasvermeeren.com
Contact
Personal Power Mastery
Rachel Dobson
1-866-393-9496
douglasvermeeren.com

Contact