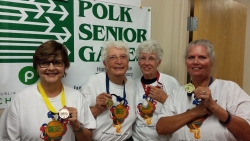 Winter Haven, FL, March 20, 2018 --(
PR.com
)-- On March 7th, the 2018 Polk Senior Games held its pistol shooting competition, attracting both men and women, ages of 50 through 86, from across Central Florida.
The women of In-Gauge of Polk County competed against woman in the age categories of 50-59, 60-69 and 70-79.​ The top scores were 256 by Judy Flaig (Gold 50-59 women) and 239 by Janet Ergle (Gold 70-79 women - a new record)
All of the competitors are eligible to participate in the upcoming Florida Senior Games and are currently preparing.
Sponsors are being sought to offset their expenses. All of the women can be contacted through In-Gauge of Polk County, Winter Haven, Florida.
In-Gauge of Polk County is a National Rifle Association chartered, private, non-profit organization, that specializes in firearms safety training, in Winter Haven, Florida. The Club meets the 2nd Tuesday of every month in Winter Haven.