30th Anniversary Celebration Free Food. Live Music. Signature Drinks.
Blue Mesa Southwest Grill is celebrating their 30th anniversary with a party. The event is free to the public and will feature free food, live music and signature cocktails.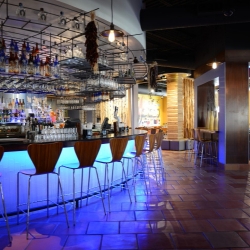 Addison, TX, March 27, 2018 --(
PR.com
)-- Blue Mesa is celebrating 30 years in business. To mark the occasion, they are hosting a free-to-the-public party at their Addison, TX location (14866 Montfort Drive) on April 19, 2018, starting at 5 pm. The event will feature live music and free food – including samplings of dishes that were on the original menu, like duck taquitos and bacon wrapped Baja shrimp. In addition to the festivities, the event will also serve as a fundraiser for Operation Kindness, a nonprofit, no-kill animal shelter that Blue Mesa partners with on an on-going basis.
Blue Mesa, founded and operated by Jim and Liz Baron, opened its first location in 1988 at Sakowitz Village (now known as Village on the Parkway) in Addison, TX. Since then, the brand has grown to include locations throughout the Dallas-Fort Worth area. A big part of the growth is due to their award-winning Sunday Brunches and their popularity as a great place to host celebrations and get-togethers.
"To be open ten years in the restaurant industry is amazing – but 30 years? Almost unheard of! We think the fact that our brand has endured speaks to our commitment to deliver a great dining experience and to the loyalty of our guests," says Liz Baron, the owner of Blue Mesa. "This celebration is an acknowledgment of our history and a chance to invite some old friends and new friends to join in the party!"
Blue Mesa strives to honor the history of the brand while perpetually evolving the dining experience. In keeping with such, the famous brunch has grown from a buffet to a made-to-order, display cooking setup. And the locations have been renovated to better accommodate group functions, from parties to work gatherings.
When stepping inside the restaurant, the atmosphere makes it clear this is the place to socialize with friends. The 30th Anniversary Celebration is the perfect chance for the public to experience Blue Mesa for the first time or remind themselves of what makes the restaurant so good. Plus, the free samplings of food, like the brand-new chimichurri steak and corn crusted chicken tacos, cannot be missed!
For those that cannot make it to the party, there are other ways to join in on the celebration. All day on April 19th, every Blue Mesa location will be serving their signature blue margaritas for only $2. And all year long, they will be serving famous dishes from the past 30 years.
For more information on Blue Mesa, please visit bluemesagrill.com.
Contact
Blue Mesa Grill
Jerett Walters
972-467-7558
bluemesagrill.com

Contact