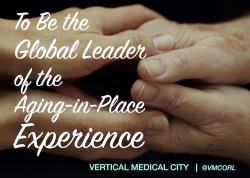 Orlando, FL, March 28, 2018 --(
PR.com
)-- Executives have finalized selection of the Experts and Consulting Team to work with PONTE HEALTH in the Design and Construction of Vertical Medical City coming to Downtown Orlando.
Though the Architecture Partner to Team with PONTE HEALTH and the Builder have yet to be disclosed, Ponte assures they are Top Experts in the Market.
"We would only select the best for a project of this magnitude," assured Ponte; both companies, architect and builder, Ponte has admitted are publicly traded companies.
Some have established about VMC ORL that it will in fact be "Transformative" for the Healthcare Industry, not only in the Patient Experience but also in the way that Technology is used to improve it and Patient Care, although details to this end have been few and vague.
Also in recent days, the PONTE HEALTH and VMC ORL Executive Team penned down a Vision Statement, process which they shared online through a video bit, to carry them through with their groundbreaking work and into the future: "To Be the Global Leader of the Aging-in-Place Experience."