Xirkle (XIR) Announces  1,000,000 Crypto Coins Airdrop for Bitcoin (BTC) Holders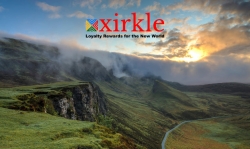 Ocean City, MD, April 04, 2018 --(
PR.com
)-- According to a 2016–2017 Baymard Institute study, 69% of online customers didn't checkout their orders. The most common reasons are shopping cart complexity, extra high fees for deliveries, and tedious requirements to create a new account. To ensure a fast, cost-effective, and trustless ecommerce transaction at scale, Xirkle (XIR) crypto coin was developed as an alternative payment option to the legacy credit cards processing system, while rewarding members for the usage of the XIR coins.
Recent research shows that the best rewards credit cards are offering many benefits to its members. To increase the user adoption of its crypto currency, Xirkle aims to redefine the legacy customer loyalty rewards program by leveraging the blockchain protocol of Stellar Consensus Protocol (SCP).
According to Deloitte Center for Financial Services (DCFS), blockchain technology is arguably an optimal solution for loyalty rewards programs. "In a trustless blockchain, there exists an opportunity for ecommerce stores to come together under one loyalty reward program for the best interest of all customers," says O. Tom Chhuong, CEO of Xirkle.
Within Xirkle's ecosystem, Xirkle (XIR) is a non-security digital coin, which was based upon SCP via the federated Byzantine agreement and created exclusively for ecommerce and/or financial transactions on Xirkle Store (https://store.xirkle.com) and/or other entities.
Learn more about Xirkle:
https://xir.xirkle.com
By tokenizing the Xirkle Store with the XIR coin, Xirkle will have the capacity to allow online customers to earn fractional XIR coins on their purchases plus the traditional purchase points.
Xirkle identified certain methods for customer acquisition and retention, while also increasing customer loyalty and dramatically reducing churn rate. These methods can be observed in the official whitepaper: https://xir.xirkle.com/Xirkle-Official-White-Paper-V0.88.pdf
Xirkle (XIR) upcoming integration with its ecommerce Xirkle Store is ideal for early adopters of blockchain technology, which has been proven to be beneficial for tech savvy users and newcomers.
Do you own Bitcoin?
If yes, check the Bitcoin block explorer to see if you're eligible. It's a good time to claim XIR coins for holding BTC. You're eligible for XIR crypto coin airdrop if you were holding Bitcoin (BTC) on Block #512028 go to: http://bit.ly/2II4qY7
To increase Xirkle's brand awareness, Xirkle is running this crypto coin airdrop until April 30, 2018. Xirkle will give an equal amount of XIR coins for each Bitcoin held as of Block #512028. For example, if a BTC holder had 10 BTC, Xirkle will give 10 XIR coins. The hard cap for this airdrop is 1,000,000 XIR coins. This offer expires on April 30, 2018. Distribution will start on May 1, 2018 after Xirkle's verification of your eligibility.
How to Claim your XIR coins if you're a Bitcoin Holder:
Bitcoin holders on Block #512028 can claim their XIR coins here: http://bit.ly/2u9QRx7
Note: Xirkle (XIR) coin is currently trading on StellarTerm.com: http://bit.ly/2oXDlYl
About Xirkle LLC
Xirkle is an up and coming search engine, which was founded in 2015. Xirkle and its crypto coin XIR aim to tokenize its shopping cart for customers, while leveraging Stellar's blockchain technology.
Contact
Xirkle, LLC
O. Tom Chhuong
646-883-3124
https://xirkle.com/

Contact