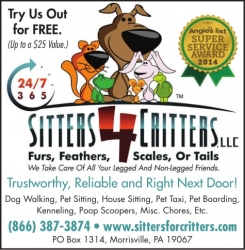 Morrisville, PA, April 08, 2018 --(
PR.com
)-- If local folks have noticed what may seem like an invasion of happier dogs and cats throughout Bucks County and Philadelphia over the past half decade, Sitters4Critters may be to blame. The Pennsylvania pet sitting company is celebrating its five-year anniversary, winning awards and launching new services along way.
What started with a single client from a veterinarian's referral has since grown into a booming pet sitter and dog walker business boasting upwards of 500 clients and more than 15 employees. Compassion is at the core of everything Sitters4Critters does, with the aim of making life easier and happier for pets and their owners alike.
New Mobile Vet Tech Service Adds to Growth
Making pets' lives healthier is now also on the agenda, with the launch of a new mobile vet tech service. The Sitters4Critters mobile
vet tech service
brings pet nursing on wheels right to the pet owner's very own home.
Traveling certified vet technicians can provide first aid, trim nails, administer prescribed medications, injections or ear cleaning, and otherwise supplement care suggested by the pet's primary care veterinarian. Not only do pet owners receive pet nursing on wheels without a vet fee, but they also avoid the hassle of transporting their pets.
Dog Walking Award Showcases Local Love
If past performance is any indication, Sitters4Critters' mobile vet tech services are slated to be a major success. Local pet owners have fallen in love with the company's other services, enough to ensure Sitters4Critters snagged the 2018
Best Dog Walker
award in the #BucksHappening contest.
As part of the Happenings Media "love local" mission, the annual contest is not an easy one to win. Locals first have to campaign and vote for a six-week period to ensure their most beloved business makes it to the top of the list. The voting period is then followed by a lengthy audit process.
"You should stand proud, knowing that your neighbors appreciate your passion and contributions to the community," Happenings Media President Angela Giovine writes in a congratulatory letter. "You have triumphed!"
The true triumph for Sitters4Critters, however, is providing the services and care that result in hundreds of happy dogs and cats.
Contact
For more information or interview opportunities, contact Sitters4Critters, LLC:
(866) 387-3874
(215) 431-5093
https://sittersforcritters.com/