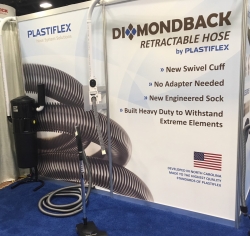 Statesville, NC, April 08, 2018 --(
PR.com
)-- Plastiflex is pleased to announce the successful launch of the Diamondback Retractable In-the-Wall Hose Storage System at the 2018 VDTA/SDTA Tradeshow in Charlotte, North Carolina. "We developed a product that is superior to any offering in the market and we wanted attention to be drawn directly to the Diamondback Hose," stated Mike Schutte, Product Manager for Plastiflex. "We are excited to have the perfect solution for the in-the-wall hose storage system for central vacuum. Plastiflex has developed a product that exceeds all performance standards currently offered in the market."
The Diamondback Retractable Hose is not only designed to meet practical vacuum and airflow necessities, but to also withstand the rugged retraction and pull-out requirements for the in-the-wall pipe storage system.
Specific advantages to competing products include:
· Advanced Polymer Blend – Non Stretching Hose
· New Engineered Sock (1 1/4" / 32mm) – No Stretch, No Creep, and No Bunching
· New Swivel Cuff – Eliminating Hose Entanglement
· New Handle to Cuff Design – No Adapter Needed
· Floorcare Hose – "Soft Hose," Rounded Profile Which is Gentle on Furniture
· Proprietary Non-Marking Hose Crown – (1 3/8" / 35mm)
· Patented Airflex® Profile (1 3/8") for Superior Airflow - Consistent and Steady Retraction Speed
"We couldn't be happier with the reception from everyone who attended the new venue in Charlotte and we are currently accepting Diamondback Hose orders from event attendees," stated Mike.
Jason Milton, Kelly Robinson, Mike Schutte, Mark Monper, Steven Ritzen, Piet Gruwez and all of Plastiflex would like to thank the attendees for making the 2018 VDTA/SDTA Show a huge success. For more information about Plastiflex and the products offered in floorcare, please contact sales.northamerica@plastiflex.com or mike.schutte@plastiflex.com / 704-200-8127.