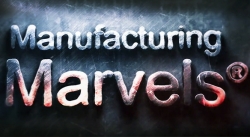 Kansas City, MO, April 24, 2018 --(
PR.com
)-- Custom Truck One Source (Custom Truck) will be featured on an episode of Manufacturing Marvels, a nationally televised program on the Fox Business Network on April 25th at 8:30 PM CDT. The spotlight will be filmed on location at the Custom Truck headquarters in Kansas City.
Produced by Marvel Production Group, LLC, the segment will highlight Custom Truck's broad portfolio of equipment solutions including sales, rentals, aftermarket parts & service, equipment customization and remanufacturing, financing solutions and asset disposal.
Viewers will see equipment designed, customized and assembled to work in the utilities, forestry, railroad, construction, propane, oil and gas and heavy equipment industries.
The production will showcase several new and historic facilities spanning the 150 acre campus, including the crane service facility, the 24/7 service call-in-center, and the 70,000 sq. ft. hi-rail and infrastructure building introduced in 2015, which remains the nation's largest fabrication and service facility of its kind. Viewers will also get to preview the new production center, a 130,000 sq. ft. facility in which all assembly and production will take place come mid-summer of 2018.
The episode will air on April 25, 2018 at 8:30 PM CDT on the Fox Business Network. The spotlight will also be showcased on Custom Truck's website and social media profiles following the initial broadcast.
About Custom Truck One Source
Custom Truck One Source is the first true single-source provider of specialized truck and heavy equipment solutions. With sales, rentals, aftermarket parts and service, equipment customization, remanufacturing, financing solutions, and asset disposal, our team of experts, vast equipment breadth and integrated network of locations across North America offer superior service and unmatched efficiency for our customers.