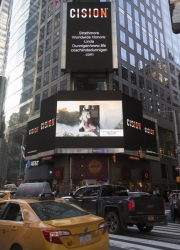 Sarasota, FL, April 17, 2018 --(
PR.com
)-- Linda Dunnigan of Sarasota, Florida was showcased on the famous Reuters Billboard in Times Square, New York City by Strathmore's Who's Who Worldwide for her outstanding contributions and achievements in the field of life coaching.
About Life Coach Linda Dunnigan
Ms. Dunnigan has over 20 years experience in the life coaching field. She is a Life Coach at Linda Dunnigan's Life Coaching in Sarasota, Florida. Linda provides life coaching for all ages targeting decreasing stress, motivation, success, bereavement, business and personal business consulting. She centers upon situations of everyday life to high stress situations. Linda helps individuals, couples, children, ages 10 and up, families, large and small businesses, small corporations, private and public organizations, and provides seminars and public speaking support. Her clients are from all walks of life. She takes special care to understand the unique needs of each of her clients to design custom solutions that exceed expectations.
Linda states, "I believe that you can grow into the person or business, that you wish to be, if you have the right tools. Keep calm and carry on! For the first time in your life give yourself a chance to really get to fulfill your life and the people around you."
Born in New York, New York, Ms. Dunnigan obtained a B.S. in Business Marketing from Stony Brook College. She was recently honored with a Lifetime Achievement Award. In her spare time she enjoys art and family activities.
"My life is dedicated to help and understand others, and give them a better chance to succeed in whatever they need or do. This is my life's calling. Helping you helps me to be a better person and enjoy my life as I so much want you to enjoy yours." - Linda Dunnigan
Linda will work with clients from all over the U.S. and out of the country by offering free consultations over the phone 24/7, Monday thru Sunday. She will meet in-person with local clients in Sarasota, Bradenton and Venice, Florida. Call Linda at (941) 377-8602.
For further information, please contact
www.lifecoachlindadunnigan.com
.
About Strathmore's Who's Who Worldwide
Strathmore's Who's Who Worldwide is an international advertising, networking and publishing company based in Farmingdale, New York. They are proud to be able to satisfy their clients and continue to have repeat clientele due to their longevity and pride in their products and services. The Owners strive to connect business professionals to enhance their contact base and networking capabilities so they can get the acknowledgment and publicity within their industries and beyond. The Strathmore family has been providing these valuable services for over two decades. They target executives and professionals in all industries to be featured in their publication and on-line directory. Industries include business, law, education, healthcare and medicine, fine arts, IT, government, science, real estate, entertainment and many more accomplished fields. Professional profiles are listed in an annual hardcover journal and in a detailed, searchable database on the website www.strww.com.