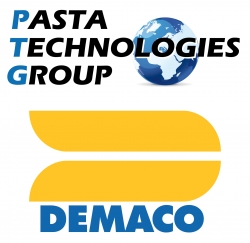 West Melbourne, FL, April 17, 2018 --(
PR.com
)-- PTG and DEMACO will work together to offer a wide range of equipment and solutions to the North American pasta industry. PTG, or Pasta Technologies Group, and DEMACO are both leaders in the pasta industry. By working together, PTG and DEMACO now combine the best of both companies for the benefit of pasta manufacturers.
Samuele Palagiano, President of PTG, said, "We look forward to working with DEMACO. DEMACO has a very capable team and they know all aspects of the business very well. They have a long history of building and installing sanitary machines in washdown food factories." Len DeFrancisci, Co-owner of DEMACO said, "We have long admired the machines designed by PTG. They are an innovative company and offer exceptional products. We are confident that by working together, our customers will benefit from the combined expertise and technology of both companies. PTG machines fit perfectly with our product lines, so we see many possibilities in the future for offering more comprehensive solutions for our customers."
PTG has over 25 years of staff expertise in the food industry and specializes in proposing advanced and customized technologies. DEMACO was founded in 1914 and builds state-of-the-art, high capacity pasta machines used by the largest food companies in the world.