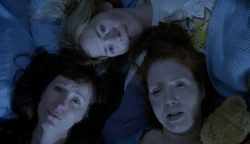 New York, NY, April 27, 2018 --(
PR.com
)-- In late November 2014, co-creators of the short film "Lady Hunters," Angela Atwood and Lara Buck, stole away for a moms' weekend away in upstate New York. Just days before, reports that Bill Cosby had been charged with multiple counts of sexual assault hit the news.
"We couldn't get away from talking about it. It took over our weekend - the shock, the disappointment, the feeling of complete betrayal. I'd formed many of my beliefs of how a family and spouses should treat each other based on years of watching the Huxtables on 'The Cosby Show.' 'Fat Albert' had been a steady companion for me when my family moved all aver the country as a child. My understanding of how people should treat each other was heavily influenced by him. It was like, what else have I totally misapprehended about people and behavior my entire life?" says Atwood.
"That weekend with my girlfriends, there were a couple evenings of wine, and improvising fantasies of how we'd get back at all the unpunished rapists out there. A butternut squash was involved," recalls Lara Buck. Atwood had just completed her first short film, "Freebie," when she asked her friend, "What if we made a movie about it? About how we feel right now?" So that's exactly what they did.
How were they feeling? "Betrayed by our heroes. Angry with a culture that not only accepted, but seemed to thrive on abuse. Frustrated with a judicial system that permitted the powerful to assault the weak with impunity. Throughout script development, fundraising, pre-production, and shooting, more and more cases of rapists going unpunished were in the news," Atwood continues. "By the time the film was in post-production last June, it looked like Cosby was going to get away with it, as his sexual assault case ended with a mistrial. Three weeks after the film was finished with post, allegations against Harvey Weinstein were in the news."
Co-star and co-creator, Lara Buck: "It seemed like nobody was paying for their horrible offenses against women. Whether you're a rich star or a college athlete. People seemed to think it was ok. 'He's just a young horny college kid. He's a champion swimmer and he gets good grades. Boys will be boys,' it's all a bunch of BS and the same people who say those things would be disgusted if it was their daughter or wife or mother who was abused. Justice."
Rounding out the "Lady Hunters" three-female-protagonist co-starring trio, Marianne Hardart: "I have more than once heard comments like, 'Times were different then,' as if rape, molestation, and harassment were ever okay for the women! Now women are speaking out and being heard instead of dismissed. The days of women and children being seen but not heard are OVER."
"There's something extremely viscerally exhilarating about it! Watching these three moms when they killed that gang rapist," said an audience member following the film's world premiere screening at the Kansas City Film Festival, April 14.
Says Atwood about the conviction, "It's monumental, and of course very satisfying to be a part of the pushback. Satisfying and very sad at the same time. This film was motivated directly by this case and too many – far too many other true stories of rape, sexual assault, and women being punished for it. But, can I call this a 'happy' day? No. It's still a dreadful day. A man we adored and admired for decades - throughout my childhood, young adulthood, and family-rearing years - is guilty of despicable, disgraceful crimes against many, many women."
"Lady Hunters," the dramatic dark comedy short film, had its NYC premiere at the Manhattan Film Festival April 21, currently in competition for Best Short Film, Best Direction, Best Ensemble, Best Cinematography, and Best Screenplay awards. Encore screening: Tuesday, May 1, 7 PM at Cinema Village, 22 East 12th St., NY, NY. Tickets available at www.ladyhuntersmovie.com