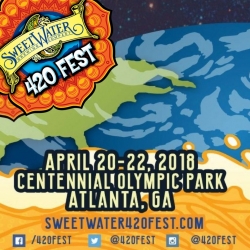 Davie, FL, April 20, 2018 --(
PR.com
)--
Green Roads
, a leading manufacturer and supplier of Cannabidiol (CBD) pharmacist formulated products in the U.S., has signed on as sponsor for the 2018 SweetWater 420 Fest, which will kick off on Friday at Centennial Park in Atlanta.
Green Roads will be the official hydration station sponsor for SweetWater 420 Fest offering free CBD massages in the VIP area. Green Roads will also be setup in the general admission area featuring Green Roads CBD products and apparel for the entire three day event. Concert-goers stopping by Green Roads' booth will be able to purchase and learn about Green Roads' innovative CBD products including
CBD Hemp oil
, edibles, capsules, syrups and pain relief topical treatments.
"We welcome Green Roads as a 420 Fest sponsor of our hydration stations and are excited to bring awareness to their CBD product offering," said Jennifer Bensch, promoter and producer of SweetWater 420 Fest. "We whole-heartedly agree with their mission of improving the lives of their users and families, inspiring hope and restoring happiness."
Green Roads will be a first time sponsor of the event and expects a warm welcome for the company's lineup of CBD products.
"We're thrilled to be a part of this year's festivities and looking forward to enjoying amazing musical performances, while helping to educate those in attendance about the benefits of CBD," said Craig Fabel, President of Green Roads.
Green Roads' products are manufactured from 100-percent-certified agricultural hemp and are in full compliance with the U.S. Farm Bill. Green Roads products contain zero THC.
Green Roads utilizes strict screening protocols to ensure quality and purity. All raw compounds are lab tested by the company and by a third-party lab during the manufacturing process.
For more information on Green Roads, the company's retail products, and medical CBD studies, visit https://www.greenroadsworld.com and https://www.greenroadswellness.com.
About Green Roads
Founded in 2012 and headquartered in Fort Lauderdale Florida, Green Roads is a leading manufacturer and supplier of Cannabidiol (CBD) pharmacist formulated in the U.S. and abroad. Green Roads' mission is to offer users a safe, effective alternative to prescription painkillers, other toxic prescription drugs and over-the-counter drugs that contain harsh chemical compounds alien to nature's perfect remedies. Our licensed pharmacist compounds creams, salves, oils and edible products that are specially formulated with soothing botanicals, and natural plant-based ingredients including precise combinations of the cannabinoid. Our vision is to bring our customers natural products and understand that "There's Always An Alternative!"
Source: Green Roads