AloeVeritas Along with PainSmarts and the GPOSO, Announce Initiation of Phase I Observational Study Evaluating AloeMD
AloeVeritas along with PainSmarts and GPOSO (Global Professional Observational Study Organization), Announce Initiation of Phase I Observational Study Evaluating AloeMD for the relief of pain without Opioids, Steroids, and NSAIDs.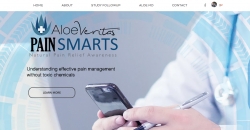 Dallas, TX, April 20, 2018 --(
PR.com
)-- AloeVeritas today announced the call for consumer volunteers in a Phase I study of ​AloeMD​, also known as an extracellular matrix protector and pain disruptor. ​AloeVeritas​ is testing ​AloeMD​; a physician created and patented topical application formula, designed for temporary and long-term natural pain relief from chronic inflammation. And in turn, is advocating and supporting toxic pain medication abuse awareness.
The Phase I study, conducted in conjunction with ​Painsmarts​, is a strictly volunteer, randomized, study. The goal of the study is to evaluate the unique active botanical compound efficacy, tolerability and safety in an alternative pain reliever with volunteers from around the world. The study will take place in the United States and Europe, and will enroll subjects until the end of the year.
AloeVeritas​ partnered with patent holder, ​Dr. Joseph McWherter​, and through AloeVeritas worldwide rights it will study, develop and commercialize specific patented compound combinations for the natural relief of chronic pain due to inflammation. AloeMD's drug-free formulation containing Dr. McWherter's patented 100% natural bioceutical matrix is a molecular compound, which targets the extracellular matrix through a novel mechanism of topical smart absorption delivery technology, allowing the body to ultimately repair itself, naturally, without the use of toxic chemicals.
"AloeVeritas and PainSmarts share a commitment to advancing natural botanical compounds with the potential to address the unmet need that exists for consumers experiencing chronic pain with little to no long-term relief from common pain modalities and limited alternatives to drugs or opioid-based pain medication," said ​Christopher Hardy, CEO, AloeVeritas​. "Dr. McWherter's leadership in the clinical development of this product, and work to ensure rapid progress toward the patent approval, has allowed us to advance this important study. We look forward to our continued collaboration as we move toward our strategic goal of providing all-natural alternatives, and changing the way consumers view pain relief in the future."
About Chronic inflammation and pain
One in every four people worldwide experience chronic inflammation and pain with more than 20 million Americans between the ages of 20-64 experience debilitating pain. 51% of individuals in pain surveyed felt they had little or no control over their pain - even when taking prescription medications. Chronic pain is the number one cause of disability, and addiction or abuse from these pain medications contribute to the second most abused category of prescription drugs when used for pain management.
About AloeVeritas, US
AloeVeritas is a natural wellness company that discovers, develops and commercializes innovative therapeutics in areas of unmet consumer need through pure aloe Vera based natural cosmeceutical grade products. The Company's mission is to advance the care and relief of chronic pain sufferers worldwide and further the study of natural pain relief without the toxic side effects of opioids, steroids, and NSAIDs. Headquartered in Dallas, Texas, AloeVeritas has operations in North America and Europe and distribute products through independent sales distributors. A complete suite of wellness products are available online at ​www.aloeveritas.com​.
About Dr. McWherter
Dr. Joseph McWherter, MD, is an innovative clinical scientist and practicing physician, dedicated to bringing important new treatments to patients with chronic inflammation, using natural botanical compounds. Dr. McWherter's proven discovery and clinical development teams have advanced multiple product candidates with novel mechanisms of action. Dr. McWherter is focused on solutions for the most challenging problems in chronic pain and inflammation -- with immediate as well as long-term reparative benefits.
AloeMD, US Patent # 9610258B2 ​has been determined safe and efficacious in humans for its ultimate intended use.
For more information on AloeVeritas and PainSmarts, please visit the company's web site at ​www.aloeveritas.com​ or to volunteer as a study participant visit www.painsmarts.org​ or call 1-833-Tru-Aloe to speak to a customer care representative.
#jointhemovement
#bethemovement
Contact:
Jillian Corley, 1-833-Tru-Aloe (Media)
Chris Hardy, 1-833-Tru-Aloe (Investors)
Source: AloeVeritas, US
Contact
AloeVeritas Americas, LLC
Jillian Corley
833-TRU-ALOE
www.aloeveritas.com

Contact