OfficeSpace.com Integrates Rail Yard Telecom Concierge® to Help Tenants Make Informed Telecom Decisions for CRE Properties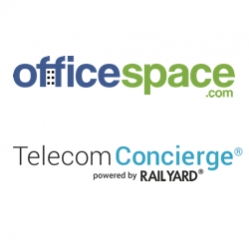 Seattle, WA, April 24, 2018 --(
PR.com
)-- OfficeSpace.com, a national commercial real estate (CRE) listing service that connects tenants and brokers, announced that it has integrated their search platform with Rail Yard's Telecom Concierge®, a telecom aggregator that makes it easy for businesses to find and compare providers for internet, phone and other telecom services. Prospective tenants can now compare and receive competitive quotes from telecom services through Telecom Concierge® for any commercial property listing on OfficeSpace.com across 40 cities nationwide.
"Every business is looking for fast, reliable Internet service, and by opening our platform to OfficeSpace.com, we provide essential connectivity information so prospective tenants can better evaluate commercial properties while securing the right internet service at the very best price," said Christopher Harman, Co-Founder and CEO of Rail Yard. "We are excited to partner with OfficeSpace.com, who is as committed as we are to providing tenants with relevant, comprehensive, and accurate commercial property data."
With the integration of Telecom Concierge®, businesses in search of new space can view a wide variety of available telecom providers servicing the buildings they're interested in while searching OfficeSpace.com's extensive property database. OfficeSpace.com users can also compare service providers and request customized quotes in real-time.
"OfficeSpace.com is about making the leasing and move experience easier for tenants and brokers. For today's enterprises, internet connectivity is essential and a prerequisite before a physical move. Employees would rather be without desks than be in a new office without internet. On the other hand, making the right economic and quality choice of providers is also important and our integration with Rail Yard provides both," said Mark Ashida, CEO of OfficeSpace.com. "We are excited about this integration with Rail Yard and the value it provides for tenants and brokers."
As one of the fastest growing CRE search platforms, OfficeSpace.com's database coverage includes over 553,000 on-market listings and a total of 1.2 million listings across 50 states. Prospective tenants can search OfficeSpace.com's free, open platform and connect with brokers at no cost for office, retail, industrial, flex and land listings.
In addition to integrating Rail Yard's Tenant Concierge®, OfficeSpace.com has established numerous partnerships to ease the CRE search process for tenants and buyers, while facilitating more efficient connections for brokers. Earlier this month, OfficeSpace.com announced a partnership with Community Systems. OfficeSpace.com also launched syndication partnerships with Colliers International, Coldwell Banker Commercial via Realogy and with Apto, adding thousands of new listings to their database.
About OfficeSpace.com
OfficeSpace.com is the fastest growing online commercial real estate marketplace that connects tenants and brokers. With over 553,000 on-market listings nationwide, OfficeSpace.com provides lease and sale information for all commercial space types - including office, retail, industrial, flex, and land listings. OfficeSpace.com's online property database is available to search for free and without any restrictions. Hundreds of thousands of unique users generate millions of building views on OfficeSpace.com every month. For more information, go to
officespace.com
.
About Rail Yard
Rail Yard is an online marketplace for telecom services, empowering businesses to comparison-shop for essential internet and other telecom services, confirmed to be available at their office location. To help customers make an informed choice, Rail Yard developed the Telecom Concierge®, which provides a simple way to input business needs, receive competitive quotes and objective guidance, and get the right services at the best price. For more information, go to
railyard.com
Contact
OfficeSpace.com
Jenica Rhee
206-686-4545
https://www.officespace.com

Contact