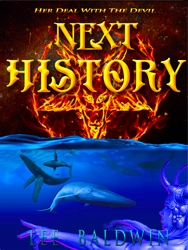 Ashland, OR, April 24, 2018 --(
PR.com
)-- "Humorous, a cliff hanger, a marvelous love story. Perfectly executed." - Reader Comment
In "
Next History, Her Deal With The Devil
," Lee Baldwin sends the reader on a young woman's journey to contact her deceased mother. This veers into the occult when a folkloric demon appears inside the U.S. Pentagon.
From the Author: "'Next History' is a grown-up fantasy arising from a central question: What would tomorrow be like if we understood the Babylonian creation story as it really was, not verbally handed down over thousands of years?"
The novel provides a completely new look at the accidents of history which have brought us to the present, with uncanny secrets that could lead to a brighter future. Readers will discover what could happen when U.S. military might faces off against a being as old as time.
"Really worth reading. If you can imagine reading Neal Stephenson - before anyone much had heard of him and mix it with Good Omens - this might be that novel." - Reader Comment
Included in this temporary free edition are lengthy excerpts of four other Baldwin novels: Aliens Got My Sally, Halcyon Dreamworlds, Angle of Attack, and The Hidden Perils of Suicide.
About the Author: Oregon indie writer Lee Baldwin is the author of mystery and speculative fiction novels which engage the intellect and the imagination, with uncanny foresight toward what lies ahead.