Publication of "VILLISCA Axe Murders REVISITED" Announced by BMG
The centennial edition of the popular book, "Morning Ran Red," has now been released. This is a nonfiction novel about the infamous 1912 Villisca, Iowa axe murders, the nation's enduring unsolved mystery.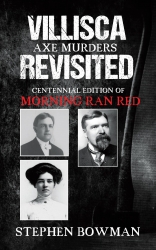 Red Oak, IA, April 26, 2018 --(
PR.com
)-- Push Publishing of London, England has released the book, "VILLISCA Axe Murders REVISITED." The book is called the centennial edition of the original bestseller, "Morning Ran Red" by Iowa author, Stephen Bowman.
VILLISCA REVISITED
is published as an Amazon exclusive. It is available on Amazon Books in both paperback and Kindle electronic formats.
"VILLISCA REVISITED" makes important editing corrections along with filling in the actual names of characters and places that had been changed in the original publication.
Both books are among the featured selections on the author's website, www.stephenbowmanbooks.com.
On June 10, 1912, the village of Villisca, Iowa awoke to discover that eight of their citizens had been axed to death during the night. The victims were the Moore family's father and mother, their four children, and two neighbor girls who had spent the night after Sunday night church services.
After the initial shock, the town quickly divided into two groups; those who allegedly suspected that Senator Frank Jones was behind the heinous crime, and those who protected him. Many said it was rich against poor, farmers against city folk, old families against new. The axe murders at Villisca, Iowa remain one of the greatest unsolved crimes in US history.
Bowman is also the author of "When the Eagle Screams – America's Vulnerability to Terrorism," which warned of both foreign and domestic attacks and also "Operation Monarch," a non-fiction novel based on a global financial and child abuse political scandal. Descriptions of these and future books by Bowman are available at
www.stephenbowmanbooks.com
.
charles@publishingpush.com
PublishingPush
+44 0203 318 6848 (UK Number)
stephen@stephenbowmanbooks.com
402.460.8107
Contact
Bowman Marketing Group
Stephen Bowman
402 460 8107
www.stephenbowmanbooks.com

Contact