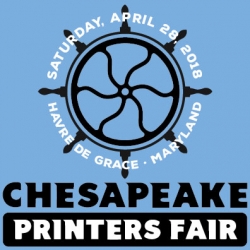 Havre de Grace, MD, April 26, 2018 --(
PR.com
)-- Glyph, a letterpress print studio, hosts 17 letterpress, paper and pen vendors at the
Chesapeake Printers Fair
this Saturday, April 28th from 10am to 3pm at their downtown location at 233 Saint John Street. This first time gathering of letterpress printers, paper artists, and pen makers on the Chesapeake will offer visitors a diverse assortment of hand-crafted stationery, art prints, and pens. Best Friends of Harford County will be hosting a cat adoption during the event and Route 40 BBQ will be vending food on-site. JoRetro's Pyrex and Vintage Fest, with 30+ vendors, will be happening simultaneously just a block away.
The Chesapeake Printers Fair was inspired by similar fairs held in Lancaster, Los Angeles, and Seattle, says Glyph co-owner Don Starr. "We have featured letterpress stationery in our store since we opened and we wanted to introduce the community to this wonderful group of artisans in person." Letterpress printing involves the use of moveable type—metal, wood or polymer—in vintage presses, many over 100 years old. There is a strong international community of letterpress printers and even the royal wedding invitations were printed recently using traditional letterpress.
Participating vendors include Kseniya Thomas, who in 2007, co-founded Ladies of Letterpress, an international trade organization for letterpress printers and print enthusiasts. Their aim is to promote the art and craft of letterpress printing and to encourage the voice and vision of women printers. Also attending is the .918 Club, organizers of the Lancaster Printers Fair, Lead Graffiti, and The Literary Press of Washington College in Chesterton, Maryland.
About the Company:
Glyph
, established in beautiful historic Havre de Grace, Maryland in the spring of 2012, had its genesis in Creative Director Don Starr's acquisition of two traditional letterpresses and 48+ cases of metal type. Using similar business models of makers-retailers such as Yee-Haw Industries and Hatch Show Print, Glyph aspires to use the traditional letterpress process in creating contemporary graphic design solutions as well as provides an educational environment to the public, sharing the historic process through hands-on workshops.