Isla Aguada is Ready to Record the Highest Jump in Land Price
The land price rose at the fastest rate in Isla Aguada, Campeche, Mexico over the past months, making the coast, south side of Campeche, the best place to invest, regarding MLS-Global Marketing first-quarter report.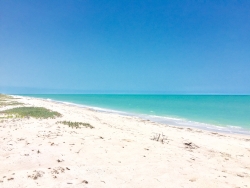 Isla Aguada, Mexico, April 27, 2018 --(
PR.com
)-- To boost development in Isla Aguada, in January 2018 GPS Group, the biggest landowner in the area, announced the "Zero Down" owner financing program to land investors and plans to start building the first eco-hotel resort and marine life observatory this year following 54 other to develop eco-bungalow hotels and luxury eco-resorts on the island. Both the government and the GPS Group aim to transform the island into the most attractive sustainable tourist destination in Yucatan Peninsula.
Isla Aguada hotel zone area recorded the highest land price inflation that pushed the cost of one linear meter of oceanfront land to 20 000 USD, up from 15 000 USD per linear meter year ago. The second phase area also recorded robust price growth over the period even the first marketing campaign is planned to be started in June 2018.
"The two Hotel Zone's exceptionally strong land price growth will continue during the next four years — driven by investors and developers' search for affordable land around beach areas for eco-hotel development and the long-term investment," MLS-Global said.
The cost of land in the other beach towns around the Yucatan Peninsula — Sisal, Celestun, Progreso — have grown much less, as the most of the permitted land is built already.
Hotel zone in the Isla Aguada registered a 33 percent year-on-year growth rate, with an acre selling now at 38 461 USD, up from 28 846 USD in 2017, regarding the biggest landowner: GPS Group.
"The Hotel Zone has experienced a real estate boom as eco-hotel developers cash in on rising demand for land, aided by reasonable land prices and the zero-down owner financing promotion of GPS Group. Planned infrastructure developments in hospitality, real estate, and commercial, have helped attract foreigner investors from USA and Canada," said Alberto Gomezllanos, the firm's head of development consulting.
Last week, several hotel resort developers have contracted oceanfront parcels in plans to start building eco-cabañas hotels, and Spas which will be built in next two years.
Contact
GPS Group
Mikael Nordstrom
+5219991447039
www.globalpsg.com
US 646 583 0170

Contact