Clement Kwegyir-Afful Shares Secrets to Success, Based on Handling Multi-Billion Dollar Projects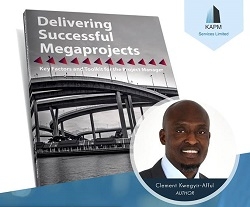 New Orleans, LA, May 01, 2018 --(
PR.com
)-- Successful management of billion dollar engineering projects requires more than a basic understanding of tools of the trade, according to Clement Kwegyir-Afful, a veteran project manager and new author.
In his new book, "Delivering Successful Megaprojects, Key Factors and Toolkit for the Project Manager," Kwegyir-Afful shares the secrets to success, based on his experience handling multi-billion dollar projects in the United Kingdom, including the award-winning Reading Station Area Redevelopment, a 2km viaduct for high speed trains that is the largest concrete structure currently on the rail network. While working on this project, he had the distinct honor of providing a tour of the site to Prime Minister David Cameron. He was also the senior project manager for the HS2 project and helped draft the contract documents for the first phase of the civil project, worth about $7 billion.
Also to his credit, Kwegyir-Afful was involved with Hinkley Point C, and was responsible for troubleshooting and redrafting contracts to set the project up for success.
"This book is not meant to teach you project management principles or methods, as that is the work of the various project management institutions around the world. This book is meant to highlight some factors that will ensure your large infrastructure project is set up for success or help turn around a project in crisis," says Kwegyir-Afful.
This book will challenge and encourage any project leader who is striving for excellence to be conscious of management skills while duly raising awareness of indirect impact and opportunities of projects. It offers great insight to project management students, professionals and even entrepreneurs and managers of businesses of all sizes. Clement shares 10 critical success factors that span a gamut of leadership and management topics all of which has the potential to stimulate the mind of any leader regardless of industry.
For more information about the author and his work, visit
www.kapms.co.uk
. To schedule an interview with Kwegyir-Afful, please call 0044-7940297358 or email clement.kwegyir-afful@kapms.co.uk.
The book, by KAPM Services Publishing, will be available in both eBook and paperback worldwide May 1, 2018. To order a copy visit
https://www.amazon.com
Contact
Tonia Askins International LLC
Tonia Askins
1-866-553-8746
www.toniaaskins.com

Contact
Multimedia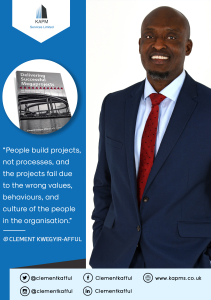 Delivering Successful Megaprojects, Key Factors and Toolkit for the Project Manager