Envoy America Receives Dementia Society of America's Distinctive Dementia SMART Award
Dementia Society of America® announces its first Dementia SMART® Award recipient for 2018, Envoy America. Fast-growing, Phoenix-based, Envoy America has a mission to help seniors stay independent, healthy and socially active – all without getting behind the wheel of a car.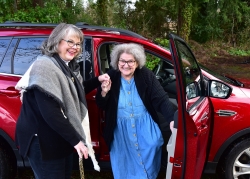 Doylestown, PA, May 01, 2018 --(
PR.com
)-- Envoy America, a comprehensive ridesharing program that offers accompanied transportation and extra assistance for seniors and patients, announced today that it had received the distinctive Dementia SMART® Award from the Dementia Society of America®. This award recognizes and celebrates businesses and organizations large-scale efforts to be more Dementia-friendly in their offerings.
All Envoy America Drivers are offered Dementia training and certification, after a rigorous education day is completed under the instruction of Jan Dougherty, MS, RN, FAAN, CEO and Founder, TravAlz and Former Director, Banner Alzheimer's Institute.
If a person is living with Dementia, it doesn't mean he or she can no longer participate in meaningful activities; but it does require planning to ensure safety and enjoyment for everyone.
"Traveling is a complete disruption of routine, which is a key stabilizing factor in a one's day-to-day life," said Jan Dougherty, CEO, and Founder, TravAlz. "For someone who is often confused and unaware of their surroundings, travel can be very disorienting and difficult to handle. Envoy America's drivers are now trained specifically on how to interact with people living with various forms of Dementia. This training provides an extension of the healthcare services that allows travel to go as smoothly as possible."
A fundamental part of the Envoy America's mission is to help seniors stay independent, healthy and socially active – all without getting behind the wheel of a car. The company has delivered pioneering service, which has made a real difference to people living with Dementia, and their caregivers in a range of different settings.
"We could not be prouder and more honored to receive the Dementia Society of America's distinctive Dementia SMART award," said K. C. Kanaan, Chief Executive Officer, Envoy America. "The award is an outstanding tribute to the superb work the Envoy America drivers and management team in delivering best-in-class transportation services to empower the lives of those living with Dementia and their caregivers."
Dementia Society's Kevin Jameson, President, and Chairman, said, "We applaud the driver-training efforts that Envoy America has implemented. It helps those living with Dementia continue to be active, get out and about, and do it in a way which is meaningful, respectful and sensitive to an individual's needs. Envoy America's services can go a long way toward creating greater peace of mind for all those involved."
Over the last 30 months, the Envoy America team has embedded working with people living with Dementia at the heart of their service. They have delivered services to thousands of people with Dementia in several states, including Arizona, Texas, Washington, New Mexico and Illinois. This work has manifested itself in many ways from people living in their own homes to those in senior living communities and hospital care.
About Envoy America:
Envoy America's mission is to help seniors, stay independent, healthy and socially active – all without getting behind the wheel of a car. Envoy America is the fastest growing rideshare company in the US that is solely focused on seniors and people that cannot or should not drive. Envoy America is preferred by senior passengers and drivers for its safe and friendly experience. It is committed to affecting positive change for the future of seniors. Envoy America is partners with American Cancer Society and American Medical Response/Access 2 Care. Envoy America is currently operating in Phoenix, Tucson, Dallas, Houston, San Antonio, Austin, Santa Fe, Tacoma, Seattle, Olympia, Albuquerque, and Chicago. For more information, visit
www.envoyamerica.com
visit our Facebook page at facebook.com/EnvoyAmerica To schedule a ride or to learn more about Envoy America, please call 888-375-5558 or visit www.envoyamerica.com.
About Dementia Society of America:
Pennsylvania-based Dementia Society of America (DSA) is the nation's leading all-Dementias awareness organization. Also, DSA provides an information hotline (1-800-DEMENTIA), and an easy-to-use, web-based locator which can assist families and individuals in finding valuable support near to them (DementiaSocietyResources.com). DSA underwrites, through its Ginny Gives® Program, non-medical activities focused on: music and singing; dance and movement; the visual arts, touch, and sensory stimulation. Lastly, the Dementia Society's Dementia SMART® Award Program provides recognition to those that serve the Dementia community through exemplary care, innovation and research. You can learn more about the Society at
www.dementiasociety.org
.
Contact
Dementia Society of America
Sandra Moyer DeHaven
800-336-3684
www.dementiasociety.org

Contact