Benseron Hospitality and Optomany Team Up at the Retail Business Technology Expo
Benseron Hospitality, a global POS provider, and Optomany, creator of innovative payment solutions, have teamed up as strategic partners in the UK and Ireland markets.To showcase their flagship products, they are presenting together at the Retail Business Technolgoy Expo in London May 2nd and 3rd.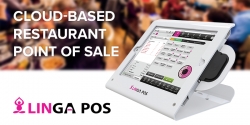 London, United Kingdom, May 03, 2018 --(
PR.com
)-- Benseron Hospitality, creators of the popular Linga Point of Sale solution, is joining forces with its strategic payment solutions partner Optomany, for this week's Retail Business Technology Expo (RBTE) at Olympia, London from 2 to 3 May. Both companies will showcase their latest payment solutions, meet with current and potential customers and showcase the latest in payments technology at the Optomany booth, stand H130.
Since 2004, Benseron Hospitality has led the way with quality POS systems for the restaurant and retail industries. The Linga Point of Sale solution continues Benseron Hospitality's heritage of innovation by offering businesses the world's first cloud-based iPad POS system of its kind. Linga's intuitive interface makes it simple to connect with customers and manage inventory even across multiple locations.
Optomany's axept® payment platform is Europe's first payment engine designed with omnichannel retailing at its core, offering businesses unsurpassed flexibility for payments in-store, online or unattended. Optomany's payment processing platform is secure, flexible and future-proof.
The CEO of Benseron Hospitality, Onur Haytac, believes his company's partnership with Optomany is a natural fit, "Our partnership with Optomany is both a technology integration and a strategic partnership. Linga POS popularity is growing globally and this relationship will allow us to better serve merchants in the UK and Ireland with a solution that is both compliant and fully integrated."
"We are delighted to be working with Benseron and are excited to be bringing a true omnichannel experience to the market together," said Ian Rutland COO at Optomany. "With the payments industry continuously evolving, we will be working together to bring a complete, fully managed payment solutions package to customers, offering a range of innovative payment features."
About Benseron Hospitality
Benseron Hospitality offers state-of-the-art technology to help restaurant, QSR and bar owners run their businesses more profitably. Benseron offers POS systems that work with mobile tablets, self-serve kiosks, or terminals. Their flagship product is Linga POS, an enterprise-ready cloud-based platform sold globally. The Naples-based company, founded in 2004, also offers technology for online ordering, payment processing, inventory management, and customer loyalty. For more information please visit
www.benseron.com
.
About Optomany
Optomany specializes in omnichannel payment processing technology, delivering innovative, reliable and secure solutions to the retail sector across all channels. Accepting all major payment schemes and certified by all major UK acquirers, Optomany's solutions can operate as stand-alone payment systems and as an integrated part of retailers' point of sale or e-commerce platforms. Part of the CR7 Services Group - one of the fastest growing payment solutions providers in Europe - Optomany offers a full range of solutions for cardholder present, cardholder not present and e-commerce environments, as well as a broad selection of value added services.
www.optomany.com
.
For more information on Benseron Hospitality or Linga POS system, contact:
Don Rua, Marketing Director
marketing@benseron.com
For more information on Optomany, contact:
pr@optomany.com
Contact
Benseron Hospitality
Don Rua
800-693-4106
www.benseron.com

Contact