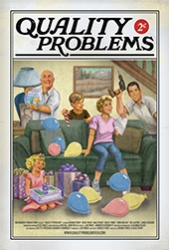 Los Angeles, CA, May 08, 2018 --(
PR.com
)-- "Quality Problems" wraps up a successful festival run with three nominations at NewFilmmakers LA Awards Best Of Gala on May 12, 2018: Best Comedy Performance (Brooke Purdy), Best Feature, and Best Screenplay. The film world premiered at Cinequest (2017) and was an official selection at top festivals across the US including the Austin Film Festival, Florida Film Festival and Geena Davis' Bentonville Film Festival. Awards include Directors Choice Indie Spirit at the Sedona International Film Festival, Best Feature and Best Actress at Hell's Half Mile Film Festival, Best Feature at the Women Texas Film Festival in Dallas, and Best Ensemble Cast at Jefferson State Flixx Fest.
In 2008, Brooke Purdy, a Burbank based screenwriter, was diagnosed with DCIS, non-invasive Breast Cancer. She and her husband, Doug, had two small children and fought the disease with their army of friends, family, and their sense of humor. Out of this challenging experience, comes the inspiration for the narrative feature Quality Problems, which is loosely based on their family's survival. Brooke, Doug, and their two children, Max and Scout, star in the project, a final chapter in their healing – and a vehicle for hope for families dealing with a diagnosis.
"Quality Problems" tells the story of Bailey and Drew, a 40-something couple much like other couples. They have two kids, two jobs, and one boob with cancer. With only two weeks until their daughter Scout's eighth birthday party, Bailey just wants to check things off of her massive "to do" list. This isn't her first rodeo with Breast Cancer and she's determined to handle it as efficiently as possible. Drew wants to fix Bailey. He decides the best way to do this is to "work" her well, taking any handyman job that comes his way. But Bailey doesn't want to be "fixed" - she wants to be well. Their family fights for normalcy, attempting to keep their sense of humor intact, as Bailey juggles her misplaced anger, wayward Boot Camp clients and her father's mental decline while Drew enlists the help of his friends to make Scout's party proof they "got this." When Bailey's ten-year-old son, Max opens up that he knows the truth, Bailey finally realizes she can't control everything.
Written by Brooke Purdy and co-directed by Brooke Purdy and Doug Purdy, "Quality Problems" was produced by Jen Prince, and co-produced by Jhennifer Webberley and Colette Freedman. It is a Metamorfic Production. "Quality Problems" features an award-winning ensemble cast including: Chris Mulkey ("Clyde"), Mo Gaffney ("Dr. Daly"), Jenica Bergere ("Paula"), Michael Patrick McGill ("Alan"), Ryan Bollman as ("Lance"), Brooke Purdy ("Bailey"), Doug Purdy ("Drew"), Max Purdy as ("Max"), and Scout Purdy ("Scout").
Freestyle Digital Media Vice President of Acquisitions, Dan Fisher, negotiated the deal for "Quality Problems" with Jen Prince and Jhennifer Webberley for Metamorfic Productions.
"We're proud to partner with Freestyle Digital Media in the release of 'Quality Problems,'" said producer Jen Prince. "We aimed to make a film that handles themes of navigating modern-day family life and marriage while dealing with a cancer diagnosis in a hilarious, fresh, relatable yet poignant manner."
We at Freestyle support the passion of new voices in independent film," said Dan Fisher, Vice President of Acquisitions for Freestyle Digital Media. "We look forward to making this funny and moving movie, "Quality Problems," available to viewers throughout North America."
"Quality Problems" official website:
www.qualityproblemsfilm.com
"Quality Problems" official trailer: www.youtube.com/watch?v=giswxhNSSPw
About Metamorfic Productions
Metamorfic Productions was founded in 2003 by Producer Jhennifer Webberley. Metamorfic produces feature films, short films, branded content, music videos and multimedia design projects. The company is committed to delivering inclusive content that represents authentic life through rich performances, cohesive and artistic visual design, and thoughtful sound design. Metamorfic currently has two features on the festival circuit. "And Then There Was Eve" (Tania Nolan, Karan Soni, Mary Holland) which was awarded a Jury Prize at the 2017 Los Angeles Film Festival, is a provocative indie love story/psychological thriller with LGBTQ themes. "Quality Problems" (Chris Mulkey, Mo Gaffney, Jenica Bergere), a feature comedy about a family dealing with cancer, is an audience favorite and world premiered at the 2017 Cinequest Film Festival. Metamorfic is in pre-production on the feature family film, "Miles Underwater," recipient of a Duplass Brothers/Seed & Spark grant as part of the Hometown Heroes initiative.
About Entertainment Studios/Freestyle Digital Media
Chairman and CEO Byron Allen founded Entertainment Studios in 1993. Headquartered in Los Angeles, it has offices in New York, Chicago, Denver, and Raleigh. Entertainment Studios owns eight 24-hour HD cable television networks serving nearly 160 million subscribers: The Weather Channel, Pets.tv, Comedy.tv, Recipe.tv, Cars.tv, ES.tv, MyDestination.tv and Justice Central.tv. The company also produces, distributes, and sells advertising for 41 television programs, making it one of the largest independent producers/distributors of first-run syndicated television programming for broadcast television stations. With a library of over 5,000 hours of owned content across multiple genres, Entertainment Studios provides video content to broadcast television stations, cable television networks, mobile devices, multimedia platforms, and the World Wide Web. Our mission is to provide excellent programming to our viewers, online users, and Fortune 500 advertising partners.
In 2015, Entertainment Studios purchased Freestyle Releasing, now called Entertainment Studios Motion Pictures, a full-service, theatrical motion picture distribution company that specializes in representing independent companies, major studios, and mini-major studios for the purpose of exhibiting their films as first-class theatrical releases. ESMP released 2017's highest-grossing independent movie, the shark thriller "47 Meters Down," which has grossed over $44.3 million to date. The digital distribution unit of Entertainment Studios Motion Pictures, Freestyle Digital Media, supplies quality commercial film and TV content directly to all US VOD/SVOD rental DVD/Kiosks and theaters using the latest cloud-based technologies to automate digital workflow. Freestyle Digital Media provides our content audience a positive digital viewing experience on every device everywhere.
For more information, visit:
www.metamorfic.com
www.es.tv
www.freestylereleasing.com
www.freestyledigitalmedia.tv
Contact:
Jhennifer Webberley
Jen Prince
qualityproblems@gmail.com
818 209 7750