Ecuador Freedom Launches New Offroad Pacific Discovery Tour
A New Motorcycle and 4x4 Adventure to Immerse Visitors in Ecuador's Remote Forests and Sunny Beaches.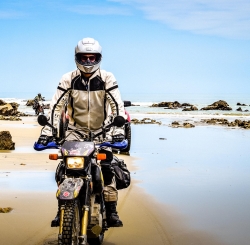 Quito, Ecuador, May 08, 2018 --(
PR.com
)-- Adding to an already comprehensive portfolio of award-winning routes and tours, Ecuador Freedom Bike Rental and Tours has crafted a brand-new adventure tour by connecting some of the most astoundingly scenic dirt roads in the world. The new 7-day / 6-night off-road adventure tour is now available to motorcycle and 4x4 enthusiasts who want to take the "slow route" from Quito to the white-sandy beaches of Ecuador's Pacific Coast, all while enjoying activities and experiences along the way that they wouldn't be able to do - or find - on their own.
The new Offroad Pacific Discovery Tour provides six full riding days plus a day to relax on the beach and explore the dirt roads and fishing villages on the coast. It begins in Ecuador's capital city, Quito - a UNESCO world-heritage city of timeworn colonial buildings and cobbled plazas nestled at 9,500 feet high in the Andes. From there it follows a mostly unpaved, 764-mile route that snakes its way through the thick, misty Mashpi Cloudforest Reserve, gives a glimpse into the ruins of the lost Pre-Colombian Yumbo people and their curious tunnels, mounds and pools, and provides miles of care-free riding on sandy stretches of the Ecuadorian coastline. Along the way, participants will meet chocolate makers, butterfly breeders, participate in an indigenous Shaman cleansing ritual, and discover the uses of the Ceibo tree's unique, waterproof cotton.
"Over the past 9 years in business, we've put thousands of miles on the road each year, sourcing the best for our travelers. We design 4x4 and motorcycling itineraries that go well beyond surface-level experiences, for people who want to genuinely immerse themselves in the world around them," explained Court Rand, Owner and Lead Guide at the Quito-based tour operator. "They will see the must-sees, but also the incredible natural landscapes, archaelogical ruins, wildlife, foods and cultures that evoke a sense of awe. We connect our riders to local people and local cultures; we don't just stare at them from a distance as we ride by. Our customers experience Ecuador on an intimate level through conversations with locals and by experiencing what life is like in this land of diverse topography and peoples. We move people away from the common and into the more remote and obscure areas of Ecuador, giving a glimpse into ways of life that have largely disappeared."
Riders (or drivers) on this new tour will have access to many of Ecuador's protected wildlife and natural reserves in several different ecosystems. Among them, the Nono Biological Reserve is known as one of the most biodiverse forests on the planet, the Galera-San Francisco Marine Reserve has roughly the same biological diversity as the Galapagos Islands. and the Mashpi Cloudforest Reserve is now one of National Geographic's top destinations for nature lovers.
Each night, non-touristy yet luxurious lodges and inns offer world-reknowned Ecuadorian hospitality in every gesture. The Palma Azul Hotel & Spa is an artisan-designed boutique hotel whose restaurant offers up its version of the traditional cazuela – a hearty peanut seafood stew made proudly in Manabi Province. The Kashama Resort was built into a waterfall, deep in the rainforest, at the base of the towering Andes. It provides its guests with the cleansing rituals of a shaman from the local Tsachilla tribe. The Mindo Garden Lodge energizes its guests with its own ecological reserve, deep in the cloudforest and boasts 2.5 miles of roaring private riverfront. As with all of Ecuador Freedom Bike Rental Tours, single occupancy, private accommodations are provided to each participant without an additional fee.
Guided Version
The new tour is available immediately and all year long as an all-inclusive guided motorcycle tour led by a qualified, knowledgeable, local guide and followed by a support vehicle (for groups of 4 or more motorcycle riders). All guided tours have guaranteed departures throughout the year and may be customized for private groups of 3+ riders.
For more information click here.
Self-Guided Version
The tour is also available as a fully-customizable self-guided tour, where the participant rides or drives one of the company's 4x4 vehicles or adventure-ready motorcycles, using the provided pre-programmed satellite navigation system (GPS) and accompanying road book to follow the route to stay at the pre-paid hotel accommodations each night. The
self-guided
version is also available all year long with advanced reservations. The self-guided tour includes an adventure-ready dual-sport motorcycle or 4X4 off-road capable pickup truck, motorcycle saddlebags or luggage, pre-programmed GPS, lunch and dinner each day and a cell phone for 24-hour customer support. Prices start at $2335.
For more information click here.
About Ecuador Freedom
Located in the historic capital city of Quito, Ecuador Freedom Bike Rental is the country's first motorcycle tour operator, founded in 2009. Working with local, professional guides they design and outfit tours for adventure enthusiasts who wish to explore Ecuador's hidden gems. They are proud to offer South America's largest selection of rental motorcycles, all available with a low-price guarantee. Their rapidly-growing fleet of 4x4 vehicles from VW, Jeep and Ford that are toughened with offroad suspensions, snorkels, lighting systems and other gear to make them ready for your next adventure anywhere in Ecuador. Ecuador Freedom Bike Rental has achieved the "Certificate of Excellence" from TripAdvisor for 6 years in a row and was named "Motorcycle Tour Operator of the Year" by Luxury Travel Guide in 2017 and the "Business Excellence Award - Guided Tour Operator of the Year – Ecuador" in 2018 by Corporate Insider Magazine.
For more information:
FreedomBikeRental.com
Contact
Ecuador Freedom Bike Rental
Court Rand
1-603-617-2499
http://FreedomBikeRental.com
In Ecuador +593 (02) 600-4459

Contact