In Touch Cuba Travel Presents a People-to-People Experience with the Acclaimed Cuban Painter Jesus Nodarse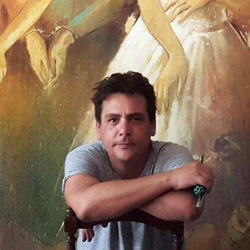 Miami, FL, May 17, 2018 --(
PR.com
)-- In Touch with Cuba and RobertKent Galleries have organized a People to People Experience with the acclaimed Cuban painter Jesus Nodarse. The United States debut of Nodarse includes a solo exhibition and a documentary about traveling to Cuba from US that will be presented on Saturday May 19th, 2018 at RobertKent Gallery in Marietta, GA.
The people-to-people experience also includes meetings with artists and art students from the Atlanta area during the Memorial Day weekend and the Art Walk on June 1st celebrating the first anniversary of RobertKent Galleries.
Jesus was born in Villa Clara, Cuba. He studied at the Nacional Academy of Fine Arts "San Alejandro" in Havana. After graduating in 1996, he became a professor at the National Academy of Fine Arts of Havana. He has exhibited in Berlin, Kuala Lumpur and Beirut. His work has also been shown in Chicago. He spent two years working full time for a gallery in the Middle East in Lebanon where his artwork is well known. He lives and works in Old Havana, Cuba.
Many of his paintings are populated by female figures and numerous characters such as fishermen or mythological creatures like the Minotaur or mermaids. In describing his work Nodarse says, "As a Cuban painter, I'm inspired by the real woman, the woman that suffers and is happy at the same time. The woman that fights during the day and is a peacemaker during the night." He describes the women and the characters around them as coming from both his reality and his fantasy life.
"We have been organizing trips to Cuba for five years and we are excited to have Jesus Nodarse in this people-to-people experience of a Cuban painter in the United States," says Elmer Castillo, owner of In Touch Travel (www.intouchwithcuba.com). "With this cultural and educational exchange, we want American people to know that it's still legal to visit Cuba from US and there is a lot to discover in the Cuban art scene."
Contact
In Touch Travel
Elmer Castillo
305-600-2867
https://www.intouchwithcuba.com

Contact