"Sweet Success," a New Picture Book by Liz & Jimmy Reed, Releases July 3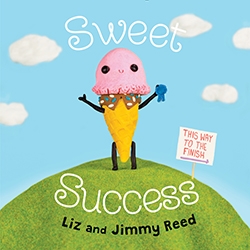 Columbia, MD, May 18, 2018 --(
PR.com
)-- In their latest picture book, "Sweet Success," authors & illustrators Liz and Jimmy Reed introduce young readers to Scoops. Nothing makes Scoops happier than starting a sweet new project, but she just isn't the best at completing them. Readers will find out whether her latest project, a birthday gift for the Cherry twins' surprise birthday party, will be finished in time for the big event or she has a complete meltdown when "Sweet Success," published by Harper-Collins, hits the market on July 3rd.
"We all have a Scoops in us. There's so much joy in starting something new, but the steps toward the finish line can feel overwhelming when a project isn't going as planned," says Liz. "'Sweet Success is a story about overcoming all the pressure (real or imagined) around finishing a project and learning to ask for help when necessary, as well as inspiring readers to keep creating no matter what obstacles they may face."
"Sweet Success" is the second picture book crafted and drafted by the husband and wife team, who are also the creative force behind Cuddles and Rage. Their first book, "Sweet Competition," was published by Harper-Collins in 2016. The illustrations for the book are photographs of hand-sculpted dioramas, which took more than two months to build. In addition to Scoops, a 5.5" tall ice cream cone sculpted from Premo polymer clay and textured using a tooth brush, "Sweet Success" includes 24 unique characters and more than 90 handmade props made from everyday household materials including dental floss, coffee grounds, gum wrappers and sugar packets.
"Sweet Success" is now available for pre-order on Amazon for $17.99 in hardcover.
About Liz & Jimmy
Liz and Jimmy Reed are the husband-and-wife team behind Cuddles and Rage, a world full of disturbingly cute stories with heart. What began as a webcomic featuring doodles and dioramas of anthropomorphic food has grown to include books, animation, and product design. Their work has been commissioned by Netflix, TLC, the Science Channel and Awesome Con, as has been featuring by Nerdist, The Washington Post, NPR, HelloGiggles, and SparkLife, among others. The couple currently live in Columbia, Maryland.
Editors Note
Images from "Sweet Success" are available upon request.
Contact
Gold Standard PR
Mel Gold
703-599-1643
www.goldstandardpr.com

Contact