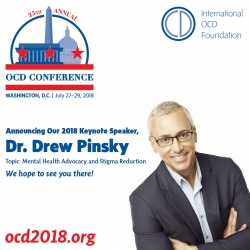 Washington D.C., DC, May 24, 2018 --(
PR.com
)-- The International OCD Foundation has announced that renowned physician, Dr. Drew Pinsky, commonly known as Dr. Drew, will deliver the Keynote address at the 25th Annual OCD Conference in Washington D.C. More than 1,800 people are expected to attend the Conference, which will take place July 27 - 29 at the Washington Marriott Wardman Park hotel. The Annual OCD Conference is the world's largest event dedicated to obsessive compulsive disorder (OCD) and related disorders, including hoarding disorder (HD) and body dysmorphic disorder (BDD). The 2018 keynote address by Dr. Drew is made possible thanks to sponsorship from the Peace of Mind Foundation.
Dr. Drew is Board Certified in Internal Medicine and Addiction Medicine, and is a globally recognized specialist in addiction and related mental health issues. His conference keynote address will focus on stigma reduction and advocacy as it relates to discussing mental health issues in the public sphere. With regard to these topics, he will delve into what progress has been made, what still needs to be done, and what we as a community can do to help. Drew is well known through his appearances on a variety of media including KABC's Dr. Drew Midday Live with Lauren Sivan, the iTunes top-rated Dr. Drew Podcast, The Adam and Drew Show cohosted by Adam Carolla, This Life with cohost Bob Forrest, Weekly Infusion with Dr. Bruce and MTV's Teen Mom reunion specials.
Dr. Drew's keynote topic is especially timely and relevant for the OCD community. OCD is a highly stigmatized and misunderstood condition and many of those affected lack adequate resources. It's estimated that 1 in 100 adults and 1 in 200 children live with OCD. Despite its prevalence, OCD is often misunderstood and misrepresented in the media as a personality quirk or helpful trait that keeps people organized. In reality, OCD is debilitating and severely impacts those living with the disorder, as well as their friends and family. OCD can be treated using Cognitive Behavioral Therapy (CBT), specifically exposure with response prevention (ERP) and/or medication. However, it takes, on average, 14 to 17 years between onset of OCD symptoms and access to effective treatment. Common barriers to treatment include lack of awareness, inadequate resources, and fear of stigma surrounding mental health disorders.
"Imagine that there was a cure for diabetes, but people either didn't know about it, or were tooafraid of being stigmatized to ask for help. This is unfortunately the reality for many people who suffer from OCD, and this needs to change," explains Jeff Szymanski, PhD, executive director of the International OCD Foundation.
The International OCD Foundation is the leading resource for the OCD community. The IOCDF funds OCD research, trains professionals to treat OCD, helps patients access treatment and support, and oversees online resource centers for information on OCD, hoarding disorder, and BDD.
The Annual OCD Conference provides a place for the OCD Community to share the latest news and research, as well as to find support and inspiration. The conference features more than 100 presentations, workshops, and evening activities, as well as nearly two-dozen support groups. Presenters include some of the most experienced and knowledgeable clinicians and researchers in the field, as well as individuals with OCD and family members who graciously share their stories.
"OCD is a mental disorder often overlooked by society, leaving many to figure out how to cope with the challenges of this often-debilitating condition on their own," continued Szymanski. "Our goal with this year's conference is to not only shed light on the gravity of OCD, but also cultivate hope among the OCD community by teaching people how they can reduce mental health stigma and giving them the tools to find effective treatment."
Registration for the conference is open to all and continuing education credits are available to qualified professionals. For more information and to register visit
ocd2018.org
or call (617) 973-5801.