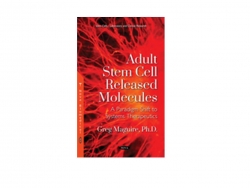 San Diego, CA, May 23, 2018 --(
PR.com
)-- Adult Stem Cell Released Molecules is a new book on therapeutic development and medicine, by California author Dr. Greg Maguire, Ph.D., that could save lives and restore health.
Dr. Greg Maguire's thought-provoking book offers a radically new approach to the standard means of developing drugs and therapeutics through the use of the molecules that stem cells release. Emphasizing that living organisms operate through the collective actions of entities within and between all levels of the biological organism, therapeutics must treat various indications by understanding and then treating the collective actions at the relevant levels that are found to be perturbed in that particular indication, the "systems therapeutic" approach.
The therapeutic development approach that Dr. Maguire explains is a result of reverse engineering endogenous adult stem cell function that serves to maintain and heal our tissues. Using the pools of molecules that different types of adult stem cells release, each pool of molecules being tissue specific for the indication to be treated, Maguire describes how a "systems therapeutic" results. The systems therpeutic technology is being implemented by BioRegenerative Sciences Inc.
Adult Stem Cell Released Molecules: A Paradigm Shift To Systems Therapeutics is written for scientists and the lay public who want to understand an important new means for saving lives and restoring health.
Adult Stem Cell Released Molecules is published by: Nova Science Publishers, Hauppauge, New York
ISBN : 978-1-53613-281-6
Published: May 2, 2018
Available online at: https://www.novapublishers.com/catalog/product_info.php?products_id=64092
Dr. Maguire was a Fulbright-Fogarty Fellow at the National Institutes of Health USA and professor of neuroscience and ophthalmology at the University of California. He has over one hundred publications in neuroscience and stem cells, and a number of related patents.
If you'd like more information about Adult Stem Cell Released Molecules, or would like to schedule an interview with Dr. Maguire, please contact him at: gregmaguire5@gmail.com