Spice Up Your Garden with the Smokestack Fireplace & Grill, Now Available at Gessato
Drawing inspiration from traditional factory chimney silhouettes, the Smokestack Fireplace and Smokestack Grill make classic barbecues look bland and boring. The eye-catching fireplace creates a focal point both with its imposing silhouette and rusty brown corten steel material. Compact and convenient, the stainless steel grill fits inside the fireplace's opening to offer an easy barbecuing solution for vegetables and meat.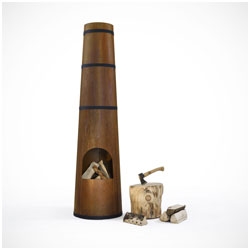 Brooklyn, NY, May 30, 2018 --(
PR.com
)-- Made in Holland
Both the Smokestack Fireplace and the Smokestack Grill are crafted in Holland. The corten steel fireplace will corrode over time to develop a natural protective layer. Made from stainless steel, the grill is durable and conveniently easy to clean.
The Smokestack Fireplace and the Smokestack Grill are available now on Gessato as a set or separately.
About Frederik Roijé
Amsterdam-based Frederik Roijé is an international design studio that creates indoor and outdoor furniture, lighting, and home accessories. Minimal or complex but always stylish and full of character, the Frederik Roijé furniture and lighting collections create focal points anywhere, from indoor to outdoor living spaces. The company's products have been exhibited around the world, including at Salone del Mobile in Milan, Dutch Design Week in Amsterdam, and Maison et Objet in Paris.
About Gessato
Based in Brooklyn,
Gessato
has an Italian soul. Pronounced with a soft "g" like "gelato," "Gessato" is the Italian term for "pinstripe." The word is sophisticated yet playful, symbolizing effortless elegance. Above all, it conveys the importance of the small things in life. The finest of lines can completely transform a design.
We carry goods designed by the talented, inventive minds of our time. Our products find their home in cozy New York apartments, spacious houses, or the corporate world. We supply furniture, lighting, or décor items to architecture firms, offices, or businesses.
We believe that a house shouldn't have too many things; a few well-chosen pieces, each with a story and a timeless design, can make it feel like a home you can't wait to return to.
Landing Page: https://shop.gessato.com/smokestack-fireplace-and-grill
High Res Images: https://www.dropbox.com/sh/8jto1cy7mlkld2k/AADCd-P4ff_3trSgpH8jAkZoa?dl=0
Contact
Gessato
Elda Bellone
646-387-4276
https://shop.gessato.com

Contact