Custom Trained Autism Service Dog Delivered to 5-Year-Old Boy in Kingston, Ontario
Service Dogs by Warren Retrievers delivered a very special Autism Service Dog to a young boy named Silas in Canada.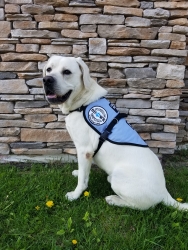 Kingston, Canada, May 31, 2018 --(
PR.com
)-- Silas, a five-year-old boy in Kingston, Ontario, received a very special Autism Service Dog delivery from Service Dogs by Warren Retrievers. Based in Madison, Virginia, Service Dogs by Warren Retrievers, or "SDWR," has a mission to provide custom trained and specially-bred service dogs for individuals of all ages with invisible disabilities like Diabetes, PTSD, Seizure Disorders, or in the case of Silas—Autism Spectrum Disorder. SDWR is currently serving nearly 1,000 families. There are over 400 families enrolled in their program awaiting the delivery of their service dog. What makes SDWR so unique, is that they have no age restrictions and none of the enrolled families ever travel in order to receive their service dog or participate in team training.
Barney, a labrador retriever Autism Service Dog, has already received numerous hours of training through SDWR's service dog raiser program in which volunteers raise service dogs in training for about a period of one year. The dogs and raisers must follow through the foundation and skill set training provided through SDWR trainers at the facility in Virginia.
Barney is also a very special graduate of the SDWR Fallen Officer Puppy Program. The Fallen Officer Puppy Program, or "FOPP," is an initiative by SDWR that began in 2016 to honor the legacy of American police officers who have sacrificed their lives in the line of duty. Barney is named in honor of fallen Police Officer Douglas Scott Barney, II who served with the Unified Police Department of Greater Salt Lake, Utah. In January 2016, Officer Barney was shot and killed after responding to a car accident in which a male subject involved in the crash produced a handgun and shot him in the head, fatally wounding him. Officer Barney was also a U.S. Navy veteran and had served in law enforcement for 18 years. Barney's work as an Autism Service Dog with Silas will carry on in memory of Officer Barney's life of duty and sacrifice.
Silas has had difficulty with this disability since age 2 and was diagnosed at age 4 and 5 with Autism Spectrum Disorder as well as Epilepsy. Silas has difficulty transitioning and going from one task to another. He does not grasp the concept of safety and has cases of elopement. He will run away and put himself in dangerous situations. "Silas has difficulty regulating himself and struggles to make social connections with his peers," states Silas's mother Tiffany. Silas has little verbal communication which can in turn cause him to upset sometimes when transitioning. He has a hard time with sleeping and eating as well as difficulty with social interaction.
Barney is equipped to help Silas cope with his daily struggles by serving as a supporting ballast and providing Silas with an anchor to prevent elopement. Silas's family is hopeful that with the help of Barney they will see increased sleep, as well as improved socialization and communication. As a working service dog, Barney is trained to be a calming force when Silas becomes upset as a result of frustrations with the daily struggles of living with Autism. Barney will also give Silas and his family some additional peace of mind by providing Silas with companionship and freedom. Since Barney is a service dog and covered under laws in accordance with the Americans with Disabilities Act, he will be able to accompany Silas and his family everywhere—from restaurants, to the conservation area, swimming, and even school.
Now with the arrival of the service dog, Barney, Silas and his family will have yet another tool, a four-legged one that has received foundational training to assist Silas to live a more independent life. Barney will also work with the SDWR trainers towards public access training and certification. SDWR trainers will continue to return for training sessions with Silas, his parents and Barney for the next 18 months every 3-4 months to continue developing Barney's skills to best fit their lifestyle and Silas's disability.
Service Dogs by Warren Retrievers is a non-profit organization based in Madison, Virginia, and relies on donations to help the Organization in its mission, "Until the Puzzle's Solved …there's a dog." To make or donation or learn more about SDWR, please visit the website, http://www.sdwr.org. To learn more about Autism Service Dogs visit http://www.sdwr.org/service-dogs/autism/.
Contact
Service Dogs by Warren Retrievers
Beau Warren
540-543-2307
www.sdwr.org

Contact