Blockchain Investment Technology Conference Middle East by AEBICON Group Kicks Off in 3 Weeks
With over 1000 delegates expected, the Blockchain Investment Technology Conference Middle East taking place on the 25th of June 2018 at the ATLANTIS, The Palm Dubai is in full momentum. A combination of Government Authorities, Institutional Investment Firms, ICO Start-ups and Blockchain Experts are just some of the diverse mix of attendees expected to show up at the event.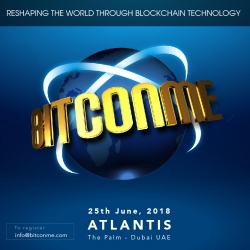 Dubai, United Arab Emirates, June 04, 2018 --(
PR.com
)-- Institutional and individual investors from the Middle East, including new joiners in the pool of Blockchain investors from Saudi Arabia, Oman, Kuwait, Bahrain and Lebanon, prepare to attend what is billed as the largest event of its kind in the region, hosting over 1000 delegates from across the globe.
The unique case study-based event that promises to provide both real time knowledge and numerous business development and investment opportunities will have representation from government authorities, Blockchain service companies, Investment Firms, Initial Coin Offerings (ICOs) and Blockchain enthusiasts in general.
Some prominent names delivering outstanding projects at BITConMe include, Dr. Zaharuddin Adb Rahman from Bayan Token, Iman Mutlaq from Ingot Coin, Henri Harland, Fliptech SAS and Victor Ilofuan of 9Pay. Ari Zoldan of Quantum Media Group LLC has also been confirmed as the official event moderator. Mr. Zoldan is also CMO of Optherium Labs and a commentary expert on technology with regular appearances on CNN, CNBC and FOX News.
Iman Mutlaq, founder of INGOT Coin and a BITConME speaker is looking forward to the event and said, "Relevant business events and meet-ups are crucial to build credibility with investors for my ICO. It's an opportunity to showcase my project and how it can help change business processes."
INGOT Coin seeks to bridge Crypto and traditional markets by integrating a Digital Bank, Exchange, Wallet and Brokerage firm. INGOT Coin also seeks to provide a Certifier for education and an ICO Accelerator.
Another BITConMe speaker Henri Harland, CEO of Fliptech SAS, described his project saying, "FlipNpik fills the technology gap and the lack of visibility that are facing small businesses."
Calling scalability and massive adoption as Blockchain's biggest challenges, he added, "Thanks to a blockchain-based ecosystem, merchants, customers and creators can now collaborate to promote local consumption and share the value created. This should no longer be reserved for insiders."
Blockchain, a digitized, decentralized, public ledger of all cryptocurrency transactions found early support in the UAE with the Dubai Blockchain Strategy being launched by His Highness Sheikh Hamdan.
The demand for Blockchain Technology remains on the rise and this is owed to the growing adoption of distributed ledger technology across multiple industries globally.
The UAE's "Emirates Blockchain Strategy 2021" recently announced in April 2018, also sends a clear statement that even government entities now see value in the adoption of Blockchain Technology as the Middle East continues to gain steady momentum in the wide spread adoption of the Technology.
Registrations are closing soon. Find out more at the official conference website,
www.bitconme.com
.
For sponsorship opportunities, please contact:
Info@bitconme.com
.
Media Contact:
Naheed Malik
97145514185
Contact
AEBICON Group
Francis Ifie
97145514185
www.bitconme.com

Contact