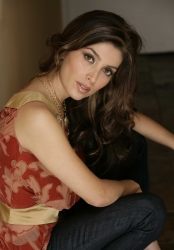 Menlo Park, CA, March 08, 2008 --(
PR.com
)-- SensiClear Acne Treatment System has gained the favor of important professionals in the beauty industry including one of the top make-up artists in Hollywood, Mezhgan, make-up artist for American Idol and other top television shows.
"I need the contestants to look flawless and perfect every time," said Mezhgan. "The problem with acne is that you cover it and 20 minutes later it comes back up again. You see it and it's darker, brighter and more red because it's irritated because you've already put so much stuff on it trying to cover it.
"For me having SensiClear is like having beautiful, flawless people to work with all of the time," she said. "All of my clients will be using it. They will have to because I'm in charge of their faces," she added.
On American Idol, besides doing the make-up for the show's host Ryan Seacrest and the judges Randy Jackson, Paula Abdul and Simon Cowell, Mezhgan also makes up the contestants. These are often teens who may have a tendency for problem skin as well as older contestants who are wearing more make-up more often than ever before. The contestants are also under extreme stress, which can contribute to acne flare-ups.
"Mezhgan is one of the top make-up artists in Hollywood and very much in demand, so we are very pleased that she recommends our SensiClear Acne Treatment System," said Charles Benard, Chief Marketing Officer for Mission Scientific.
Unlike systems such as Proactiv, the SensiClear system is the only acne treatment system with the exclusive patented ingredient Retextra. SensiClear treatment lotion with Retextra® has the ability to penetrate and unclog pores, while simultaneously smoothing and softening the skin's surface.
"SensiClear with Retextra helps visibly retexture your skin and give it a healthy glow," said Benard. "This is the most advanced acne skincare treatment that can be purchased without a prescription. While Proactiv uses ingredients that are in many other acne products such as benzoyl peroxide, the SensiClear system actually brings a new acne solution to the marketplace.
About SensiClear (
http://www.SensiClear.com
)
SensiClear Acne Treatment System consists of three easy to use products: a purifying cleanser, a balancing toner and the revolutionary blemish-free treatment lotion featuring the exclusive patented ingredient Retextra.
About Mission Scientific, Inc.
Mission Scientific Skincare is venture backed and headquartered in Menlo Park, CA. The company is dedicated to developing leading edge skin care solutions utilizing the latest patented technologies.
###