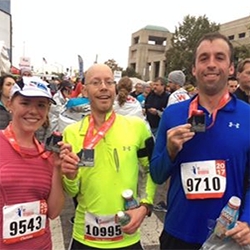 Indianapolis, IN, June 24, 2018 --(
PR.com
)-- Have you ever thought about completing a marathon or a half marathon for the first time? Do you want to train with others for the race? Join the 5th annual NIFS Fall Half & Full Marathon Training Program to prepare for the Monumental Marathon on November 3, 2018. This year they have two training options, 6:00am or 6:00pm on Wednesdays starting August 15th with longer runs on Saturday morning at 7am, at the National Institute for Fitness and Sport (NIFS) in downtown Indianapolis.
Whether you are new to half or full marathons, or have done a few in the past, the NIFS training program offers three different skill level training plans to ensure that you are training appropriately for the race. Their training program is developed by exercise physiologists and can be customized for each runner.
The 12-week program meets weekly to complete a distance/ tempo run each Wednesday at 6am or 6pm. Full marathon runners will also meet each Saturday for distances over 8 miles. The program includes a detailed training plan, expert coaching, a program t-shirt, weekly snacks and refreshments, and much more.
To register, or for more information regarding the
NIFS Fall Half and Full Marathon Training Program
, call Brittany Ignas at (317) 274-3432, ext. 263 or visit
www.nifs.org
to register online. NIFS media contact, Trudy Coler (317) 274-3432, email tcoler@nifs.org.
National Institute for Fitness and Sport is a non-profit organization committed to enhancing human health, physical fitness and athletic performance through research, education and service.